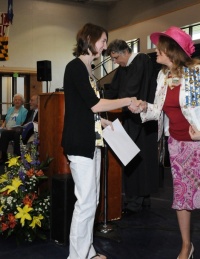 Amy Alicia Griffin receives the the Betty W. Briscoe Award. (Photo: Classic Photography)
ST. MARY'S CITY, Md. (May 30, 2008) - Amy Alicia Griffin was recently awarded the Betty W. Briscoe Award at the annual St. Mary's College of Maryland (SMCM) Awards Convocation.
The Betty W. Briscoe Award was established in 1981 by the John Hanson Chapter, DAR to recognize a Calvert County history major.
Griffin, of Lusby, Maryland, will be a senior majoring in history. After graduation, she plans to teach high school history or apply to graduate school.