Pantries and Food Banks Struggling to Meet Increasing Needs
By Andrea Shiell, County Times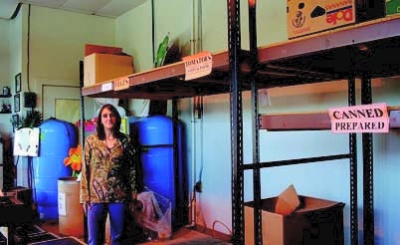 Brenda DiCarlo, manager of the
Southern Maryland Food Bank
in Hughesville, stands next to empty shelves at her facility. (Photo: Andrea Shiell)
HOLLYWOOD, Md. (May 22, 2008)—On Thursday morning at 10:45, a crowd of about 30 people gathered outside of St. Paul's United Methodist Church in Leonardtown representing all age groups; some elderly, some much younger, but all there for one thing: food.
Jean Moulds smiled warmly as she handed out bags of groceries to one person after another, each bag containing roughly $20 to $25 worth of canned and dry goods, enough to feed one person for three or four days. After that she moved from table to table, where clients were sitting down to a hot lunch and handed out toiletries and cleaning products to whoever took them.
"We always see increases whenever they up the minimum wage, because then the minimum standard for food stamps goes up," said Moulds, adding that the volume of clients seems to have increased in the last year. The small pantry is operating at capacity, distributing an average of 60 bags of food each Thursday, and between 100 and 120 hot lunches every week.
"A lot of the groups coming in have gotten younger," she said.
Other pantries in the area are seeing similar increases.
"There's a lot more different kinds of people coming in now," said Dana McGarity from the Daily Bread Food Pantry. "People that used to be on the border, as food and gas prices have gone up, they've just been running out of money at the end of the month."
"We used to be open every day, but we couldn't keep the food on the shelves," said Sue Williams from the Good Samaritan Lutheran Church in Lexington Park.
With the economy slowing and increases in gas and energy costs reaching record highs, Southern Maryland residents seem to be feeling the same pressure as the rest of the country, as soaring food costs dominate the news.
Since 2006, the price of bread has increased by 29.8 percent, milk has increased by 19.6 percent, flour by 48.5 percent, apples by 28.7 percent, ground beef by 10.1 percent, and eggs by a whopping 69.2 percent. The price of rice has increased by 9.3 percent, and market trends are driving some retailers like Costco and Sam's Club to ration their sales of bulk bags of the product.
Johnny Mae Sawyer from Mt. Zion Methodist Church echoes many of her contemporaries when she says that more and more people are turning to charity for their food. She said inquiries at her pantry about grocery assistance have doubled since January.
The Department of Social Services has also seen a dramatic rise in inquiries about food stamps and emergency grocery assistance.
"Unfortunately, federal programs are designed around gross income," said Cathy Zumbrun, assistant director for Program Performance Oversight for the St. Mary's County Department of Social Services. She said the number of people receiving food stamps in St. Mary's County has increased by 15 percent since the spring of 2006.
And this is no longer a problem just for lower income residents. These numbers do not account for the thousands of people in the state who are barred from participation because they make too much money. In order to qualify for the minimum amount of food stamp assistance, which totals $10 a month, a single applicant cannot make more than $1,107 a month before taxes (that equates to $6.90 an hour for 40 hours per week). Their criteria places a family of three making $2,000 a month well out of reach for these federal programs, which is what seems to be driving more and more people to seek help elsewhere.
Brenda DiCarlo of the
Southern Maryland Food Bank
said she has noticed people making between $30,000 and $50,000 a year having to rely on grocery assistance from their local food pantries. Her statistics show the number of families seeking assistance has topped 10,000 this year, and that is only for the pantries she supplies.
"There's been a huge increase…our pantries have had a 40 percent increase in new families needing food, and a 50 percent increase for returning families…there just isn't enough money to put gas in the car and keep the lights on…a lot of people now just can't make ends meet."
DiCarlo's first recommendation to people is that they call the Department of Social Services. Those who do not qualify for food stamps can still get a complete listing of pantries and programs in their area.
"That should be everyone's first step," Di-Carlo said, explaining that many people mistake her for a pantry, when in reality she is the one who supplies pantries in the tri-county area.Monday mornings are very busy for Di-Carlo, who manages the Southern Maryland Food Bank in Hughesville.
"I can have anywhere from five to fifteen people from the pantries waiting at the door when I get here at 7:30 in the morning," she said, adding that by 10 a.m., most of her shelves are empty. She eyes stacks of empty pallets as she moves across the one-car garage that serves as her storage and operations center.
DiCarlo is the head of what is called a secondary distribution organization (SDE), receiving food from the larger Maryland Food Bank, and then distributing the food to nearly 40 food pantries, group homes, and shelters across Southern Maryland. Lately she said she has had to turn away several clients a week because of food shortages.
DiCarlo pays 12 cents per pound for food to stock her garage, selling the product to pantries, group homes, and shelters for 18 cents a pound, leaving her with only 6 cents to use for rent and restocking.
"It's very frustrating," said DiCarlo, as she explained the trickle-down effect of shortages from her distributor to the families her pantries are trying to help.
Despite her bank's negative cash flow, the biggest problem is coming from the lack of support for her distributors.
"They don't have enough product to give to me, so I don't have enough product to give to them, to give to others," DiCarlos said. "It's a domino effect…we teeter on the edge of closure due to lack of food and support every year, and that's scary…I go to sleep worried every night."
The most practical solution, DiCarlo said, is for more people to get involved. She is hoping increased public awareness of the problem might prompt larger businesses to donate more.
"People are more generous over the holidays, but that generosity doesn't last," she said, adding that more food is actually needed in the summer months because children cannot take advantage of free or reduced price school lunches.
DiCarlo plans to approach larger businesses in the area about helping with more food and money donations.
"I think the solution is going to be bigger businesses stepping up and helping out," she explained, nodding toward her bare shelves. "I can't move mountains alone."