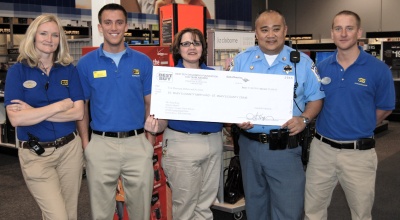 Employees of the California Best Buy present SDFC. Dung Ross with a ceremonial check for $2,000 to be used for the local Crime Solvers program. Pictured from left: Paula Slavenes, Dale Warren, Karen Schroeder, SDFC. Dung Ross, and Kyle Williams.
CALIFORNIA, Md. (May 26, 2008)—On May 17, the Best Buy store in California donated $2,000 to the St. Mary's County Crime Solvers. Crime Solvers is partnered with the St. Mary's County Sheriff's Office to provide reward money to citizens who supply information on local crimes. If the tip leads to an arrest, the caller may be rewarded up to $1,000.
According to the Sheriff's Office, several criminal investigations in St. Mary's County have been closed with arrests as a result of tips provided via the Crime Solvers line.
Reward money to be used by Crime Solvers is raised through donations from local citizens and businesses.
In addition to the cash donation, the Sheriff's Office said employees from Best Buy have also volunteered their time to help with programs such as child fingerprinting and traffic safety, among others.
The St. Mary's County Crime Solvers telephone number is 301-475-3333. All Crime Solvers calls are anonymous and kept confidential.