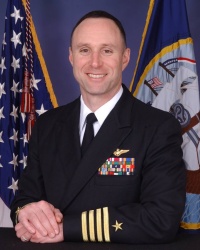 Capt. Ralph Portnoy, Program Manager, Air Combat Electronics Program Office, PMA-209.
NAVAL AIR SYSTEMS COMMAND, PATUXENT RIVER, Md. (May 26, 2008)—Capt. Ralph I. Portnoy has assumed command as Program Manager, Air Combat Electronics Program Office (PMA-209).
In May 2006, Portnoy reported to PERS-43 Aviation Engineering Duty Officer Head Detailer and the Director, AIR-7.3, NAVAIR Total Force Strategy & Management Department.
In September 2004, Portnoy was assigned as PMA-259's Air-to-Air Missile Systems Program Office, Advanced Development Team Lead. In 2001, he joined the F/A-18 Program Office, PMA-265, initially as the head of F/A-18 System Safety and then Hornet Weapon Systems Integration Integrated Product Team Lead.
He returned to the Naval Strike Aircraft Test Squadron in Patuxent River, Md. as Head of the Carrier Suitability and Landing Systems Division and was then selected to be the Lead Navy F/A-18E/F Super Hornet Test Pilot during its Follow-On Test and Evaluation Program. While serving at Strike, Portnoy was also selected for the Aeronautical Engineering Duty Officer program.
In 1994, Portnoy was selected to transition to the EA-6B Prowler and completed his Fleet department head tour as Squadron Operations Officer, Tactical Electronic Warfare Squadron 138 (VAQ-138) making Western Pacific and Arabian Gulf deployments aboard USS Nimitz (CVN-68) in support of Operation Southern Watch.
While on deployment and flying in support of Operation Desert Shield, he was selected to attend the U.S. Naval Test Pilot School and following graduation served as an A-6/EA-6B/A-7 test pilot/project officer at the Naval Strike Aircraft Test Directorate, Patuxent River, Md.
Portnoy is a native of Potomac, Md. and a 1985 graduate of the United States Naval Academy. Designated a Naval Aviator in May 1987 and assigned to fly the A-6E Intruder, Portnoy served in Attack Squadron 196 (VA-196) and made two deployments to the Western Pacific aboard USS Constellation (CV-64) and USS Independence (CV-62).
Portnoy has a Masters Degree in Computer Systems Management from the University of Maryland, University College Graduate School. His awards include the Defense Meritorious Service Medal, Meritorious Service Medal, Air Medal, three Navy Commendation medals and other various awards. He and his wife Janice have two children Jake and Elena. The Portnoy family resides in California, Md.
Source: Naval Air Systems Command (NAVAIR)