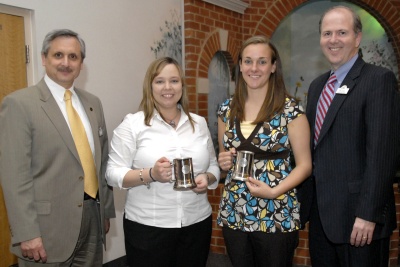 From left are CSM President Dr. Brad Gottfried, Altice, Harrison and CSM Vice President of Student and Instructional Support Services Bill Comey. (Photo: CSM)
LA PLATA, Md. (May 19, 2008)—The College of Southern Maryland recognized its student leaders for their commitment to excellence, and contributions to the college and community at the CSM Student Government Association's annual Awards Banquet, April 24 at Middleton Hall, Waldorf.
Brandy Altice of Chesapeake Beach was presented the President's Cup for outstanding leadership based on a demonstrated ability to motivate and lead others, active involvement in the college's extracurricular programs, and the giving of time and talent to better the college community.
Samantha Harrison of Lusby was presented the Vice President's Cup, for significantly contributing to improving the college community. Designed to recognize the important work done by students behind the scenes, the award is based on dedication, commitment and involvement.