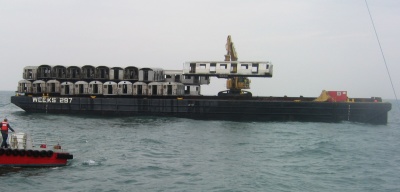 Retired New York City subway cars are dropped into the Atlantic Ocean near Ocean City, Maryland to create an artificial reef. Officials hope the reef will attract large numbers of fish which in turn will help the sport fishing industry thrive. (Photo: Md. DNR)
OCEAN CITY, Md. — On Friday, Maryland Artificial Reef Initiative (MARI) partners including the Ocean City Reef Foundation, MTA New York City Transit, the town of Ocean City, and the Maryland Department of Natural Resources (DNR), placed 44 retired New York City subway cars off Maryland's Atlantic coast for creation of a new artificial reef, the Susan J. Power reef.
The Jackspot reef site, the first of five possible sites off of Maryland's Atlantic coast, is approximately 19 miles southeast of Ocean City, Md., and represents MARI's first coastal project. The site will eventually include as many as 600 retired subway cars, and is expected to become a regional fishing and diving destination.
"For the last 11 years we have been placing artificial reef structures aimed at improving the marine environment, but the new reef at the Jackspot is by far the biggest project we have ever undertaken," said Greg Hall, President of the Ocean City Reef Foundation. "It's pretty amazing to go back to reef sites and see the area covered in mussels and swarming with marine life, even as soon as six months after initial placement."
The Ocean City Reef Foundation started raising funds for the new reef last November, when the New York City subway cars became available. A $50,000 donation from Jack and Susan Power supported the first shipment of cars to be transported to the site. Additional car placements are planned for the upcoming months as funding becomes available.
"By supporting the Ocean City Reef Foundation's New York City Transit Authority project we knew we could directly and immediately make a positive difference in our coastal resources and fishing opportunities," said Jack Power, Holland Point resident. "Our hope in kicking off this effort is that other individuals, organizations and businesses support this tremendous initiative. Everyone will benefit for decades to come."
"We are very excited about this addition to the artificial reefs," said Ocean City Mayor Rick Meehan. "Fishing is a part of Ocean City's heritage. These reefs provide quality habitat for marine life off our coast which benefits not only the environment but also local businesses, visitors and City residents."
The creation of three-dimensional reefs emulates historic vibrant marine communities, such as oyster beds and coral reefs, critical to supporting diverse species of fish that were once prolific along the Atlantic coast. Using a new documentary and promotional DVD created by world-renowned underwater filmmaker, Nick Caloyianis, MARI partners will continue to raise public awareness and financial donations to support fish habitat restoration through artificial reefs. Caloyianis is expected to dive at the Jackspot reef soon after the cars have been placed to provide initial documentation for progression of reef growth.
"Using the rail cars to create new reefs helps accelerate the rebuilding of many important species along Maryland's coast," said Captain Monty Hawkins, member of the Maryland Artificial Reef Advisory Committee. "The only thing 'artificial' is the substrate; all the life is natural. Local anglers and divers often recall a time when the ocean seemed so full of life that its diminishment seemed impossible. I think artificial reef construction is a key component to restoring that past. This project is a huge step toward rebuilding many of our region's fisheries."
MARI recently celebrated its first anniversary, raising nearly $1.4 million to support reef projects around the state. In collaboration with the Woodrow Wilson Bridge Project, MARI deployed more than 50,000 tons of concrete material from the old Woodrow Wilson Bridge to create four major reef sites: Point No Point off St. Mary's County; Cedar Point at the mouth of the Patuxent River; Tangier Sound off Crisfield; and the Gooses Reef just west of the Little Choptank River. Monitoring by divers and fishery biologists indicates that invertebrate communities and multiple species of fish have started to inhabit all four of the reef sites.
More than 50 partnering conservation organizations, businesses, foundations, outdoor recreational organizations, and countless individuals have provided resources to make MARI possible. Individuals can help with reef projects across the State by "buying a ton" via a tax-deductible donation to the Maryland Artificial Reef Initiative. The Maryland Artificial Reef Initiative was created in early 2007 to raise funds to facilitate development of marine habitat enhancement projects across the state.
The Ocean City Reef Foundation is a 501(c)3 non-profit organization. Tax-deductible donations to the Subway Car Project may be sent to the Ocean City Reef Foundation, PO Box 1072, Ocean City, MD 21843. For further information about the OCRF please call 410-208-0064, or visit
http://www.ocreeffoundation.com/
.
RELATED INFORMATION:
Maryland Artificial Reef Initiative
http://www.marylandreefs.org
.
Md. DNR Announces Creation of Md. Artifical Reef Initiative, Jan. 9, 2007
http://somd.com/news/headlines/2007/5138.shtml
Md. Joins Multi-State Effort To Use Navy Destroyer for Artificial Reef, April 7, 2008
http://somd.com/news/headlines/2008/7473.shtml
Maryland Artificial Reef Initiative Christens Dominion Reef at the Gooses, April 1, 2008
http://somd.com/news/headlines/2008/7429.shtml
Source: Maryland Department of Natural Resources (DNR)