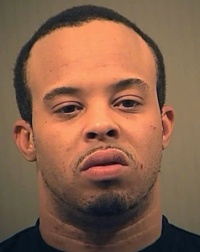 Louis Stanley Leysath III, age 28 of Waldorf has been charged with the murder of Jasmine Nicole Clark, age 23, also of Waldorf. (Arrest Photo)
LA PLATA, Md. (May 15, 2008)—Southern Maryland has seen its second murder this week. Police in Charles County say Jasmine Nicole Clark, age 23 of Waldorf, was strangled Wednesday night by an acquaintance, Louis Stanley Leysath III, age 28 also of Waldorf. Police say the murder was the result of a domestic dispute, as was Tuesday's murder-suicide in Calvert County.
The Charles County Sheriff's Office has charged Leysath with murder.
At 10:24 p.m. on Wednesday, the Sheriff's Office and emergency medical service personnel were called to Clark's apartment in the 3000 block of Gallery Place in Waldorf for the report of unknown trouble involving a subject not breathing. The call was placed by one of Clark's two daughters.
Officers and emergency medical services personnel arrived on the scene and found Jasmine Nicole Clark unresponsive with a ligature secured tightly around her neck. She was transported by ambulance to Civista Medical Center, where she was pronounced dead.
Detectives were called to investigate Clark's murder.
At 10:18 p.m., minutes before being called to Clark's apartment, Charles County Sheriff's officers responded to a residence in the 3300 block of Westdale Court in Waldorf after parents called to report that their adult son was being disorderly and was possibly under the influence of drugs. Police say they found Leysath at the residence being disorderly and determined he was under the influence of drugs.
Leysath was transported to Civista Medical Center for an emergency evaluation.
Police say detectives quickly linked Leysath to the murder. Their investigation revealed Clark, Leysath and Clark's two daughters, ages 7 and 3, were at Clark's Gallery Place apartment when Clark and Leysath began to argue about the use of Clark's vehicle. The argument turned physical and Leysath threatened to choke Clark if she refused to give him her car keys.
Police say the eldest daughter heard the argument and then saw Leysath leave the apartment with her mother's car keys. She went into Clark's bedroom and found Clark lying on the floor with the ligature around her neck. Clark was not breathing. The daughter called 9-1-1 and fled to a neighbor's house for safety.
Officers and detectives arrived on the scene and soon discovered the relationship between Clark and Leysath, leading to Leysath's arrest.
Detectives obtained a warrant for Leysath's arrest and took him into custody when he was released from Civista Medical Center.
Leysath was charged with second-degree murder and first- and second-degree assault.
He is now being held at the Charles County Detention Center pending an appearance before a district court commissioner.
Det. G. Higgs of the Charles County Sheriff's Office is investigating.
Police say Clark's children were uninjured during the incident and are being cared for by a relative.