By State Senator Roy Dyson (D-29th)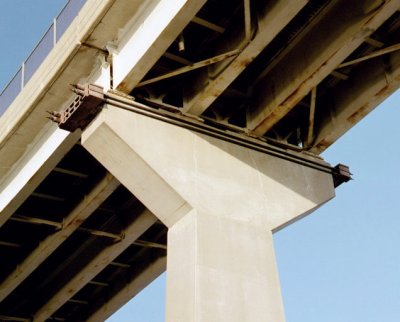 The Thomas Johnson bridge, which connects lower Calvert County to St. Mary's County, is no stranger to structural deficiencies. Several years after construction, design flaws were discovered which prompted the installation of the steel clamps pictured above to prevent the bridge from failing. SoMd.com file photo.
On Wednesday, August 1, 2007, the I-35 W bridge in Minneapolis, Minnesota collapsed hurling dozens of vehicles and people into the Mississippi River.
In the wake of the tragic bridge collapse, Maryland's Transportation Secretary John Porcari rushed to assure that the state's network of highways, tunnels and bridges is "safe and sound." He said, "No Marylander should be concerned about the safety of our bridges."
Well, I am one Marylander who is concerned about one bridge in particular - the Thomas Johnson Bridge. This two-lane 31 year old span over the Patuxent River links St. Mary's to Calvert County Today, it accommodates three times the traffic it was built to handle.
The Thomas Johnson Bridge is the site of an ongoing traffic jam. One needs the patience of Job to travel over the bridge twice a day as I do, along with thousands of others, including commuters from the Pax River Naval Base in St. Mary's County.
About 20 years ago, the bridge was closed for months, due to structural deficiencies. It got another band aid treatment. That's all it ever gets. A boat's eye view of the underside of the bridge is hair-raising. It is braced and over-braced. Its pilings appear to be in various stages of rot. For years, I have said…and I repeat it now "I don't think it's (the Thomas Johnson Bridge) safe."
In 2006, the American Society of Civil Engineers asserted that it will take $190 billion to fix more than 70,000 bridges nationwide that are deemed "structurally deficient."
I believe the Thomas Johnson Bridge is one of those structurally deficient bridges. For years, I have beaten the drum for adding a companion span. In 2005, I introduced SB 292 to appropriate money in the Consolidated Transportation Program for planning, design and construction of a second companion span to the Bridge. In 2006, I introduced similar legislation. In April 2006, at my request, U. S. Senator Barbara Mikulski wrote to Governor Ehrlich imploring that the Maryland State Highway Administration consider undertaking a study of the safety and structural integrity of the current bridge.
Finally, finally, finally, with the allocation of $4 million this year, we have the $5 million necessary to complete the planning study for a new Thomas Johnson Bridge. Before getting excited about this progress, it must be emphasized that mandated environmental impact statements, construction and completion of construction are years away from a planning study.
Indeed, it is not far-fetched to be apprehensive about bridge collapse. I'm sure the people of Minneapolis could never envision the collapse of their I-35 W bridge. But it did happen. Of course, I pray that the Thomas Johnson Bridge never collapses.
The last thing in the world I ever want to say is - I told you so.