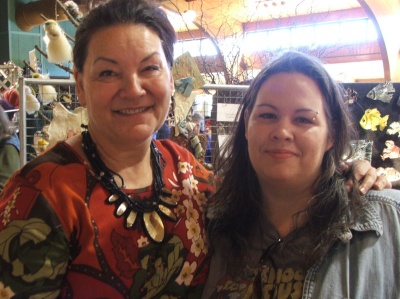 Local artists Tammy Vitale (left) and Heather Bartlett are set to unveil their work of art titled "Body Politics" on Friday at Artomatic, Washington DC's annual art event.
CALLAWAY, Md.—Local artists Heather Bartlett and Tammy Vitale are set to unveil their work of art titled
Body Politics
on Friday at Artomatic, Washington DC's annual art event. But, according to Bartlett, their display is as much a political statement as it is a work of art.
Body Politics
addresses self-image, self-worth, and submission to standard ideals of beauty and how they affect our perceptions of our own bodies.
"A woman's spirit, her sense of confidence and self-worth, may be broken by repetitive messages that tell her she isn't good enough the way she is — poisonous messages with no higher purpose than to generate demand for self-improvement products. In this age of technology the exposure to these critical messages is nearly constant," said Bartlett. "
Body Politics
addresses that inescapable bombardment and its effects."
Bartlett explained that she and Vitale were inspired to create the display after personal, life-long struggles with their own self-esteem based on perception of their own body image.
"I want other people to have a positive body image," Bartlett told somd.com. "Marketing tends to make girls feel inadequate. Sometimes that thinking rules your life, rather than focusing on happiness and accepting yourself as who you are."
Bartlett said she met Vitale in January via the local art scene. The two women were an instant match after realizing they had similar political and social philosophies.
Body Politics
is their first collaborative effort.
Bartlett said the pair designed the overall display so that it would be interactive with the viewers.
One display is titled,
Farewell to Skinny Jeans
. The artists invite the public to hang a pair of their old jeans that they haven't been able to wear in years. People are encouraged to write a message on the pants that conveys a farewell to the idea of being skinny. "Pull those jeans out of the closet and get a big fat marker and write a farewell message right on them," said Bartlett.
Bartlett sounded uncertain when hypothesizing about the success of the display.
"When you create a project like this, you never know the public will respond," said Bartlett. "We're hoping it will resonate with a few people."
Another display created by Vitale titled
Does Size Matter
involves three clay human torsos: a man, a pregnant woman, and a "generic" woman. The women are providing erasable marker so viewers can write their impressions of the body images presented by the torsos. When the torso has been completely filled with writing, the artists plan to photograph them and post the photos to their website, before erasing the torso to allow room for the comments or others.
Perhaps the idea with the most visual impact is one the ladies call
Made in China
. The display involves several images depicting the perverse, now outlawed, practice of foot binding.
Bartlett explained that wealthy Chinese would often break the bones in the feet of young girls and wrap them in wet bindings. As the bindings would dry, the girl's feet would be reduced in size. Some Chinese men would gain sexual pleasure from their mutilation of the women, commonly referred to as "Lotus shoes."
Bartlett noted that there are still women living who were crippled by the practice many years prior.
As with their other interactive displays, Bartlett and Vitale are inviting their public to express their feelings in writing about the "body images" portrayed by Lotus shoes.
Vitale is an internationally known sculptor who makes distinctive sculptures for hearth and soul. Her work has appeared in numerous gallery exhibits and solo shows, and has been the subject of many magazines articles and news media, including, most recently, Southern Maryland This is Living Summer edition 2007.
Bartlett is a multi-media artist and art advocate in Southern Maryland. She is the co-creator and administrator of the on-line Charles County Café, and a staff writer and photographer for the BayNet.
Both Bartlett and Vitale will be manning their display as well as working as volunteers throughout the event. If you would like to meet the artists in person, they recommend that you consult their website
http://bodypolitics.allzah.com/
for specific times when they will be on-site.
Bartlett said the art work in the display is available for sale. However, per Artomatic rules, the buyer can not take possession until after the event closes.
Artomatic (www.artomatic.org) has been held regularly in various spaces the DC metro area since 1999. Run entirely by organized volunteers, Artomatic charges no admission (though donations are happily accepted). The six-week event features hundreds of artists, paintings, sculpture, photography, music, theater, poetry, dance and workshops.
This year's Artomatic event occupies 200,000 square feet at Capitol Plaza 1, 1200 First Street NE, and runs from Friday, May 9 – Sunday, June 15: Wednesdays 5 pm – 10 pm; Thursdays 5 pm – 10 pm; Fridays noon – 2 am; Saturdays noon – 2 am; Sundays noon – 10 pm; closed on Mondays and Tuesdays.