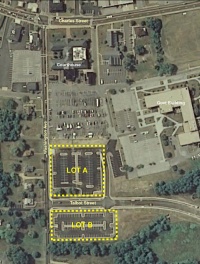 Aerial photograph of the Charles County Courthouse and surrounding area, showing Parking Lots A and B, which will be unavailable due to paving and striping activities from May 19 through May 23. (Click image for larger version)
LA PLATA, Md. (May 08, 2008)—The Charles County Department of Planning and Growth Management (PGM) today announced that the "Notice-to-Proceed" has been given to Facchina Construction Company of La Plata to begin construction on the Charles County Courthouse Expansion Project. The project is expected to take 2 years to complete.
The project entails the construction of a two-story building with a gross square footage of 75,600. The garage and basement support areas account for 28,950 square feet, while the finished basement, first floor, and second floor combined are 46,650 square feet.
The building will feature four District courtrooms (two on each floor), District Clerk, Court Commissioner, and Judges' Chambers (on the second floor), which accounts for 30,106 net square feet for State-operated services.
For the County, the building will house the Register of Wills and Land Records, both on the first floor, and will occupy 9,594 square feet.
The County space is fully separated from the State's, and has its own entrance facing the existing glass lobby entrance of the existing building.
The building will also host a limited amount of underground parking for courthouse officials. The facility will be located in the area that currently serves as the courthouse's main parking lot.
The exterior design of the building is fashioned after the Colonial Revival style of existing courthouses with all masonry construction, hipped shingled roofs, and a monumental lobby entrance. The interior of the building will feature a small, two-story lobby with two elevators and open stairs.
To keep residents apprised of the project status, PGM will issue "Construction Impact Notices" at least 7 to 14 days in advance of the date of all scheduled work.
PGM released the first such notice today to advise that surface paving and striping of Parking Lots A and B will take place from Monday, May 19 through Friday, May 23.
The notice says County employees and County customers will not be allowed to park in these lots during these dates due to the scheduled paving activities. Parking Lots A and B are the parking lots located north and south of Talbot Street.