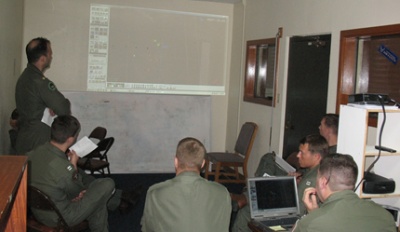 Navy aircrews on Guam using NAVAIR's Tactical Combat Training System (TCTS) system to debrief their latest mission. (U.S. Navy Photo)
NAVAL AIR SYSTEMS COMMAND, PATUXENT RIVER, Md. (May 08, 2008)—A new electronic tracking range managed by NAVAIR's Aviation Training Systems Program Office (PMA 205), helped two carrier air wings sharpen their flying skills before their upcoming deployments.
The Tactical Combat Training System (TCTS) can be configured into several versions including a portable system that can be sent almost anywhere it's needed. It uses electronics to track and score training exercises done by carrier battle groups and Navy squadrons without the need for large, land based training ranges.
Recently, the Aviation Training Systems Program Office (PMA 205) received two requests from the Fleet for help with upcoming exercises. Carrier Air Wing 5, based out of Japan and Carrier Air Wing 2 aboard the USS Abraham Lincoln (CVN 72), wanted TCTS to get them ready for deployment. PMA 205 immediately responded, sending the requested equipment, and a combined government-contractor team, including Cubic Defense Systems and DRS Technologies.
Carrier Air Wing 5 was deployed at Anderson Air Force Base, Guam for their exercise and Carrier Air Wing 2 was aboard the USS Abraham Lincoln (CVN 72) and was conducting their exercises off the California coast and at Nellis Air Force Base, Nev.
Thirty TCTS pods and the three ground stations were shipped to Guam. Twenty-two were brand new pods that just came off the production line and the other eight pods (from Naval Air Station Key West, Fla.) were brought over by Fighter Composite Squadron 12 (VFC-12), the Fighting Omars, a Naval Air Reserve adversary unit, flying from Naval Air Station Oceana, Va.
Over a four week period, CVW-5 flew more than 500 missions using the TCTS system and the Fleet was happy with the system and the team who deployed with it.
"TCTS clearly enhanced our Strike Fighter Advanced Readiness Program and Large Force Exercise training from Andersen AFB. It was a significant improvement over the previous workups and we will definitely want to use it for future exercises," said Capt. Michael White, Deputy Air Wing Commander, Carrier Air Wing 5. "I participated in a number of events that used the system and I can confirm that it was well received by all."
"We are excited to have the capability in Japan," added White. "Given the enthusiasm toward the system we had in Guam, I am confident it will be used often and for great benefit here in Japan."
Almost simultaneously, Carrier Air Wing 2 began their workups off the California coast. This was the first time TCTS was used off a carrier.
Six TCTS pods from NAS Key West were deployed to the Lincoln. As part of their pre-deployment workup, CVW-2 flew training exercises from the carrier during the Joint Task Force exercise and also participated in two "Green Flag" exercises at Nellis AFB, Nev. using TCTS. TCTS is a cooperative development program with the Air Force P5 Combat Training System. Flying at Green Flag using the Air Force system demonstrated the interoperability between the services.
"I just wanted to say thank you for all the help and support in getting the TCTS pods cleared and to the boat for our joint exercise. The training we got because of them was fantastic," said Lt. John McGee, the Line Division Officer from Strike Fighter Squadron 2 (VFA-2), the Bounty Hunters, based at Naval Air Station Lemoore, Calif. "Again, I just wanted to pass along my thanks for all the work you guys did to help put this together."
Green Flag is the premier pre-deployment exercise for units who perform close-air support for ground forces. This multi-service exercise mirrors many of the irregular warfare-conditions the aircrews will see while fighting the war on terrorism. The aircrews learn better ways to employ airpower within an irregular warfare environment.
Source: Naval Air Systems Command