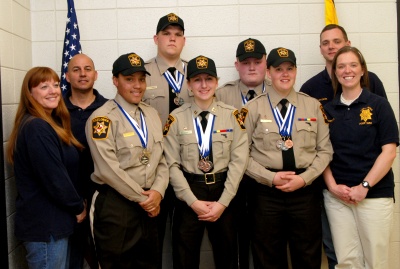 Charles County Sheriff's Office Explorers recently won a handful of medals — two gold — at the Explorers Olympics held near Memphis, Tenn. Pictured from left to right are Lori Windsor, Cpl. Rhett Calloway, Kateria Yates, Joseph Hughes, Andrea Duckett, Victor Kavaky, Shannon O'Hara, Sgt. Bill Donley and Officer Erin Horton. (Photo: CCSO)
LA PLATA, Md. (May 08, 2008)—If waiting for someone to light the cauldron in Beijing this summer is too long to get your Olympic fix, consider this: the Charles County Sheriff's Office Explorers Post 1658 recently won a handful of medals — two gold — at the Explorers Olympics held near Memphis, Tenn.
ITT Technical Institute of Cordova hosted the competition.
Five Charles County explorers — Andrea Duckett, Joseph Hughes, Victor Kavaky, Shannon O'Hara and Kateria Yates — competed in the Olympic games against 75 other Explorers from Tennessee, Mississippi, Alabama, Kentucky and Arkansas as well as ITT-Tech criminal justice students.
As a team, Explorers placed first in the crime scene competition. Yates also placed first in the paintball targets competition. Kavaky and O'Hara earned second place awards in the best-dressed category. In the knowledge bowl competition, Kavaky earned second place and O'Hara earned third. Duckett and Kavaky earned third place in the burglary competition. In the domestic disturbance competition, Hughes, Kavaky and Yates placed second and Duckett and O'Hara placed third.
Four Explorers advisors, Sgt. Bill Donley, Cpl. Rhett Calloway, Officer Erin Horton and Lori Windsor, a civilian advisor, accompanied the Explorers on the trip to Tennessee.
"I am very proud of our Explorers," said Sheriff Rex Coffey. "All the skill and determination they have demonstrated at their age gives me high hopes for their future law enforcement careers."
This team of Explorers will participate in a national Explorers competition in Fort Collins, Colo., in July.
The Explorer Post 1658 offers young people between the ages of 14 and 20 who are interested in law enforcement the opportunity to learn about police work and acquire skills used by police officers. More than 90 young people are enrolled in the program.
Explorers participate in community service events, fingerprinting, traffic and crowd control assignments, neighborhood crime watch events and searches for lost children. Other activities include the National Explorer Conference, ride-alongs with Sheriff's deputies, an annual awards banquet and group trips to Georgetown Hoyas games, Washington Capitals games, the National Zoo, Six Flags and Gilbert Run Park. Explorers have also traveled to New York through an Explorer Exchange program with the New York City Police Department.