Conductor John Maerhofer To Retire after 11 Years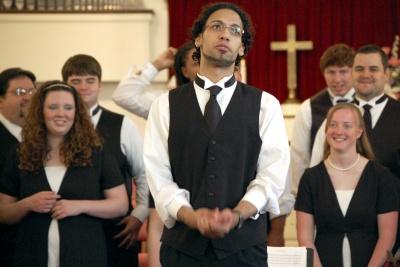 CSM student Andrew Dias III shares the inspiration of his composition, "Ave Verum Corpus," just before directing CSM Chamber Singers, including rear from left Jimmie Bise Jr., Emily Powers, Bryant Dennison, Louis Gramby, Nico Maldonado, John Gardiner and Cynthia Kirscht. (Photo: CSM)
LA PLATA, Md. (May 08, 2008)—The College of Southern Maryland Chamber Singers will complete their Spring Tour 2008 at the annual Mother's Day performance as part of the Ward Virts Concert Series at the Prince Frederick Campus on Sunday. Returning from a successful 10-day tour of upstate New York where they performed for churches, high schools and community colleges, the choir will also bid farewell to its music director and conductor, CSM Professor John Maerhofer, who will retire at the end of this spring semester.
"Working with John has been a major advancement in my career. The opportunity to tour in Europe and New York is just something I could not have gotten at any other community college. John pushes all of us to limits above what we ever thought we could attain in order to help us to find the talent within ourselves," said CSM graduate and soprano Voni Craig, who has been with the choir for four years.
Maerhofer encouraged Craig in her second year to become conductor of the CSM Concert Choir's women's chorus. "My proudest moment is when I see these students succeed or do something they didn't expect to do. Wow, the talent I have to work with. I love to see that they perform so well," said Craig.
The closing concert will include both the CSM Chamber Singers and the CSM Concert Choir as they perform works by Aaron Copland, Eric Whitacre and CSM student Andrew Dias III, who composed "Ave Verum Corpus" as part of his music theory classes. After hearing Dias' composition during the 2008 spring tour, Trinity United Methodist Church in Prince Frederick has commissioned Dias to create a piece for their use.
Dias is not the first of Maerhofer's CSM students to premiere their efforts through the voices of CSM choral program. In 2003, Woodrow Holbert premiered his composition of "Agnus Dei," which was included on the choir's CD of "Joyfully We Sing."
Recognized by the American Choral Directors Association as being "one of the most comprehensive and successful two-year choral programs in the entire state," CSM's Chamber and Concert choirs were created upon Maerhofer's arrival to the college 11 years ago.
Seeking a unique identify for the community college, Maerhofer chose to have the choirs perform as a cappella ensembles. "I decided not to do what most other colleges and universities do relating to their choirs. By our singing mostly in the a cappella style, we could draw upon a vast amount of great literature, which in many cases is overlooked," explained Maerhofer.
"Each singer becomes a very integral part of the ensemble sound and becomes aware of what his or her personal vocal identity is within the ensemble. Not only is their singing never overwhelmed by a piano or thundering orchestra, but also they begin to really understand what ensemble singing is all about. It makes them listen in a different way," he said, adding, "It is an absolute joy to watch this wonderful transformation."
Since 1997, the college's choirs have performed dozens of concerts in performance venues including the Washington National Cathedral, U.S. Naval Academy Chapel, Baltimore Cathedral of the Incarnation, and numerous churches and community centers as well as during inaugural festivities for Maryland Gov. Martin O'Malley. The May 11 concert completes the second New York tour for the Chamber Singers, which has also completed European and East Coast tours with performances in Germany, Austria, and throughout Pennsylvania, Washington, D.C. and Maryland.
"The opportunity to perform in Europe and experience the discipline of a daily concert tour schedule was invaluable for our choir students," Maerhofer said. "Every performance, whether for an audience of 10 or 200, is important to us, and our members are committed to that…they have chosen choral music as a career, and because of this they are willing to put in the time and energy that it requires," he added.
"I love the music that we sing and the ability to share it with others," said Laura Hupp, an alto who began with the choir as a high school senior three years ago and will graduate with an associate degree in music this spring. She said that Maerhofer has encouraged her passion for the music of contemporary composer Eric Whitacre, but her favorite arrangement that the choir performs is the familiar work of " 'Shenandoah,' especially when we perform it in the round because it's a way for us to hear everybody and to be engulfed by the beauty of the music and how it sounds. There's a lot of emotion in that piece."
In recognition of the college's anniversary during 2008, Maerhofer worked with dbF a Media Company to produce a 50th anniversary commemorative "Best of CSM Choirs," a two-disc set which includes 40 selected choral works from several years of recordings.
"It is our way of celebrating and congratulating the college on 50 years of continued educational service to our Southern Maryland community," said Maerhofer. Additionally the Chamber Singers have completed recording "On Wings of Song," featuring Whitacre's "Five Hebrew Love Songs," Copland's "Four Sacred Motets" as well as several spiritual arrangements. The CD is anticipated to be released by May 20.
CSM's Chamber Singers include sopranos Lauren Craig, Voni Craig, Cynthia Kirscht, Julie Overby, Ashley Windsor and Emily Powers; altos Amelia Brandenburg, Amy Braun, Stefanie Carey, Amanda Craig, Laura Hupp, Diana Reulet, Shelly Ward and Megan Craig; tenors Bryant Dennison, John Gardiner, Jing Xi Qin and Patrick Tweed; and basses Jimmie Bise Jr., Robby Craig, Andrew Dias III, Louis Gramby and Nico Maldonado.
The choirs' closing concert at the Prince Frederick Campus, 115 J.W. Williams Road, Prince Frederick, will be held in Room 119.