Big Program Makes Big Difference in Charles County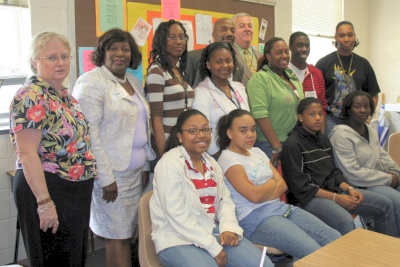 (Photo: George E. Clarkson)
County Commissioners Edith J. Patterson, Samuel N. Graves, Jr., and Reuben B. Collins, II, recently spent time with several high school seniors who are serving as mentors with Big Brothers Big Sisters of Southern Maryland, Inc. The Commissioners talked with the youth, who were at Matthew Henson Middle School to meet with their "littles," about career goals and how the students got involved with the Big Brothers Big Sisters program.
County Commissioners Transfer Ownership of Pomonkey High School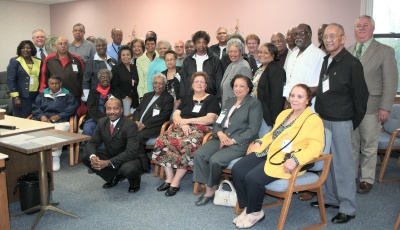 (Photo: Crystal N. Hill)
The County Commissioners voted unanimously at a public hearing on Wednesday, April 30, 2008, to convey the title and deed for Pomonkey High School in Indian Head to the Pomonkey High School Alumni Association. Of the four Commissioners present, all strongly supported and spoke in favor of the resolution.
Ms. Violet Simmons (front row, third from r.), president of the Pomonkey High School Alumni Association, was one of several persons present who testified about the historical significance of the building and the positive benefits that the school, once renovations are complete, would bring to families in Western Charles County.
Pictured with the County Commissioners are members of the Pomonkey High School Alumni Association and supporters who came to witness the disposition of the property.