BY Rich Lamance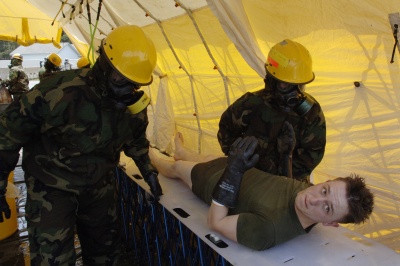 A simulated victim of a chemical attack is decontaminated by members of the Chemical Biological Incident Response Force during a National Level Exercise at Fort Lewis, Wash. The Marine Corps response unit, from Indian Head, Md., is a one-of-a-kind initial response force. (Photo: Air Force Tech. Sgt. Larry Simmons)
FORT LEWIS, Wash. (May 6, 2008) When an improvised explosive device detonated along Seattle's Alaskan Way Viaduct late last week, the reverberations of the blast, and the ensuing chemical truck explosion and release of potentially deadly methyl isocyanate gas, could be felt as far away as Texas, Arkansas, Kentucky, Maryland and North Carolina. At least in theory.
Active and Reserve units representing all services from those states and others across the U.S. converged in the Seattle area to begin their response measures with the kick-off the National Level Exercise 02-08.
U.S. Army North, the Fort Sam Houston, Texas-based military agency responsible for coordinating with local authorities and the Federal Emergency Management Agency, tested its ability to provide support as part of a federal response for domestic emergencies.
The nine-day exercise began May 1 with the simulated explosion in downtown Seattle, and tested ARNORTH's ability to fold in military assets into a seamless mass casualty response effort.
ARNORTH's Maj. Gen. John Basilica, operational command post commander for the exercise, says that while there are certain things that are a given following catastrophic disasters, such as Hurricane Katrina, communicating the needs of local, state and federal authorities and coordinating their effort to respond to the disaster is often far from a certainty.
Housed in a large communications van just outside of the command post cell is a communications tool called the Sentinel that Basilica says is a universal translator to reach first responders at all levels.
"We can get frequencies from various types of systems that can go right down to the street level - to a police officer or firefighter who has a 700 or 800 mghz hand-held radio and it will be able to talk with the tactical systems we have," said Basilica. "UHF or VHF - it's that box that allows us to connect those dots. It still takes a human element to make it happen, but the technology is there. We have them in the National Guard and on the active side, so we've broken the code. We've come a long way with our inter-agency communications and with our FEMA partners and those critical agencies at the state and local levels."
Kyle Monsees, the network manager for U.S. Army North, and for the Sentinel during the exercise, says the missing link during past crises has been the lack of the ability to communicate across agencies lines, especially when power, traditional telephone lines and cell communications are all down. Not anymore.
"The Sentinel deploys with our operational command post and provides a complete suite of networking services for over 50 users," explained Monsees. "This includes classified and unclassified Internet capability, 40 digital telephones, 24 analog telephones, and a full suite video teleconferencing capabilities. To get the Sentinel where it needs to go, it can self-deploy, go by rail, commercial aircraft, or, as with this exercise, by C-17."
Another key player, both in the exercise and as a real-world first responder is the Chemical Biological Incident Response Force, a one-of-a-kind response team that's part of the II Marine Expeditionary Force headquartered in Indian Head, Md.
According to the initial response force commander, Capt. Ed Malinowski, the team melds with local and state authorities normally within hours of an incident to help monitor, detect, sample and begin the extraction of casualties on the scene.
"We respond to chemical, biological, nuclear or a high order explosive attack - very similar to what happened in Oklahoma City," said Malinowski. "We support local authorities by helping extract casualties and provide decontamination and immediate medical help on the scene. Once everyone on the scene has been extracted, and have gone through the decontamination procedures and have been medically stabilized, we hand them over to local authorities for additional medical support."
At another exercise site at Fort Lewis' Old Madigan Hospital, a composite team of the Army Reserve's 349th Chemical Company out of Fort Lawton, Wash., has integrated elements of the Fort Hood-based 44th Chemical Company, along with the 392nd and 401st Chemical Companies from Little Rock, Ark., and Boston, Mass., respectively, to provide a decontamination site as a second echelon of support.
"Our goal is to provide decontamination support to local authorities during the exercise," said Capt. Stanley Branch, 349th Chemical Company commander. "We would provide a second responder role. We'd set up the site, then set up medical triage, identify each casualty, monitor and tag vitals of casualties, assigned numbers to account for each victim, divided into ambulatory and non-ambulatory and process them through our decon site.
"We would clean each patient, monitor for levels of exposure, then go through rinse process, and on to further medical triage. We have more than 140 Soldiers playing in the exercise, with MOSs ranging from decontamination specialists to medical and mortuary affairs."
According to Spc. Andrew Mondi, a chemical specialist with the 401st Chemical Company in Boston, Mass., Soldiers who respond to mass casualty crises such as the one simulated here, arrive with a wealth of training under their belts.
"We first go through a 10-month school that prepares us with all of the basics we need in how to properly decontaminate an area, as well as casualties. We then go through a two-month decontamination school in Georgia, followed by two weeks of Hazard Material training and another eight weeks of tech-escort school in Alabama. During the tech-escort training we focused on finding the chemicals, and during Haz-Mat training we learned how to deal with and get rid of chemicals. In decon school we learned how to take the chemicals off the casualties."
Once casualties are processed through the decontamination process they head to another Army unit responsible for their immediate medical needs. "We spend as much time as we can in our chemical suits triaging patients based upon medical importance," said Pfc. Spencer Schamun, a combat medic with the 601st Area Support Medical Company from Fort Bragg, N.C.
"During the exercise we use satellite communications to track our patients, gathering information from their electronic medical records and keeping tabs on them throughout the entire medical process," said Spc. Melanie Rahr, a signal support systems specialist with the 601st ASMC. "We use the Internet, e-mail, radios and satellite communications to make sure everyone is accounted for."
Basilica say that while there's no silver bullet that makes surviving after a catastrophic event any easier, "we're learning how to communicate with one another and how to coordinate and how to synchronize the efforts and that's what it's all about."
Source: U.S. Army