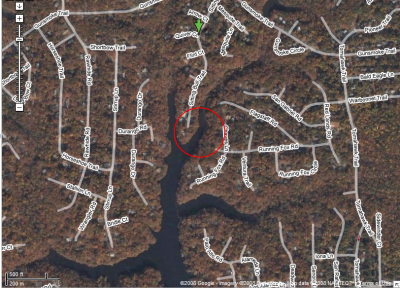 General vicinity where the body of a man believed to be Demetrius Lamar Hall of Lusby was discovered on Monday. Click map for larger image. (Map courtesy of Google Maps)
PRINCE FREDERICK, Md. (May 07, 2008)—The body of a man was located floating in Lake Lariat inside of the Chesapeake Ranch Club in Calvert County on Monday around 5:16 p.m. Police believe the man discovered is 26-year-old Demetrius Lamar Hall of Lusby.
Hall was reported missing by his mother, Martha Tate, on Saturday, May 3. Police say Tate reported that her son was missing and was last seen at an address on Durango Drive in Lusby.
The Calvert County Sheriff's office says they entered a missing persons report and subsequently attempted to locate Hall at several residences with negative results.
Police had a run in with Hall the day before when they responded to the Durango Drive address where the mother reported her son was last seen. The Sheriff's Office said in a press release that after responding to the address for a loud party complaint, Deputy Rickard observed a subject flee from the residence into a wooded area towards a nearby lake. Deputy Rickard chased the fleeing subject, but was unable to locate him.
Police later determined that the subject was Hall. Police also discovered that Hall was wanted by the St. Mary's County Sheriff's Office for child support.
On Sunday, May 04, police determined by contact with Hall's family members that he had not been located. Units from the Sheriff's Office responded to Durango Drive and searched the wooden area where Hall was last observed. Members of the Special Operations Team and members of the Solomons VFD also joined in the search for Hall.
The search teams were unable to locate Hall on Sunday.
On Monday, a male body was discovered floating in Lake Lariat between Sitting Bull Trail and Chaves Lane. Police believed the body was that of Hall because of similar race, age, clothing, and other identifying marks.
Members of the Calvert Investigative Team responded to the area and began a death investigation.
The body was later transported to the Office of the Chief Medical Examiner for an autopsy and positive identification.