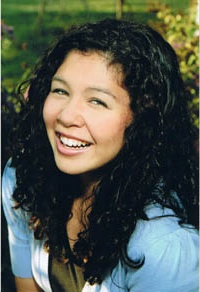 Christina Dawson, a senior at Chopticon High School, will travel to southern Africa as an official UNA-USA Youth Ambassador this summer.
MORGANZA, Md. (May 01, 2008) - Christina Dawson, a senior at Chopticon High School, will travel to southern Africa as an official Youth Ambassador this summer. Dawson will join 23 other teens from the United States and Canada on the adventure.
The trip is being made possible by a program called HERO. HERO is a campaign of the United Nations Association of the United States of America (UNA-USA).
In the summer of 2006, HERO, along with beinggirl.com and CosmoGIRL! Magazine, launched a new student initiative, the HERO Youth Ambassador Program. This program gave 11 teenagers the chance to go to South Africa and Namibia to work in HERO-sponsored schools and see firsthand the effects of the HIV/AIDS epidemic.
While working in HERO schools, the Youth Ambassadors helped make a difference in the lives of many children, teachers and community members by building a kitchen for an in-school feeding program, installing security fencing, digging holes for toilets, installing playground equipment, and spending time teaching classes.
Now in its third year, HERO has partnered once again with CosmoGIRL! and beinggirl.com to sponsor the 2008 trip.
"It has always been a dream of mine to go to Africa and work with children," wrote Dawson in her profile on the program's official website. "It is an unbelievable opportunity and I am thankful for a chance to participate in such a worthy campaign."
Dawson, a resident of California, Md., currently works with juvenile offenders at St. Mary's County's Teen Court, serves as a volunteer with St. Mary's Hospital, and volunteers with a local English as a second language program.
She has lived in Malaysia and Alaska, and has traveled to an orphanage in Peru to provide volunteer service.
Dawson is responsible for raising $5,000 in order to participate in the trip. The sponsoring organizations have set up a website where people can contribute to any of the trip's participants. As of this writing, she has raised $525.00 online.
While in Africa this summer, Dawson and the other Youth Ambassadors will volunteer their time building homes for school children and their families in Namibia, as well as installing security fencing and playground equipment, painting classrooms and offering hands-on creative and recreational programs in South Africa.
Dawson, who participates in Chopticon's Model United Nation program, plans to pursue a career in international relations.
She is the daughter of Carlton D. and Diana L. Dawson.
For more information on the Youth Ambassador Program, visit HERO: A UNA-USA Campaign online at www.heroaction.org/site/c.gpIPKZOAJoG/b.3750887/ .