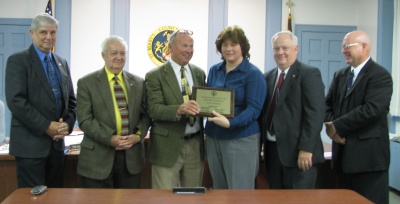 Lisa Bachmann receives the County's 2008 Distinguished Employee of the Year award from the Board of Commissioners on Tuesday in their meeting room in Leonardtown. (Photo courtesy SMC Gov.)
LEONARDTOWN, Md. (May 01, 2008)—Lisa Bachmann, a St. Mary's County employee with two years and eight months of service, was honored at the Board of County Commissioners meeting Tuesday as the County's 2008 Distinguished Employee of the Year.
Bachmann serves the County as Fiscal Specialist IV and began her career in 2005.
"Bachmann has truly distinguished herself by the quality of her service she demonstrates and her willingness to go above and beyond in the service of the County and deserves the title of 'Distinguished Employee of the Year,'" according to a statement released by the Commissioners.
The other nominees for the 2008 award included:
-- Patricia Meyers: Manager at Wicomico Golf Course;
-- Janice Blackistone: Fiscal Specialist IV in Land Use and Growth Management Department;
-- Becky Trossbach: Fiscal Specialist III in the Finance Department;
-- and Richard W. Russell: Corporal in the Office of the Sheriff.
Employees are nominated by supervisors or colleagues in recognition of their outstanding support to their department, their customers, and co-workers.
"I am proud of the service provided by all county employees," said Jack Russell, president, Board of County Commissioners. "These nominees and our winner are being recognized for going above and beyond for their hard work and daily contributions."