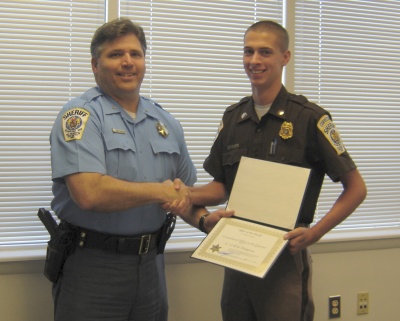 Correctional Officer Will Thompson accepts his Officer of the Quarter award for Q4 2007 from St. Mary's County Sheriff Timothy Cameron. (Photo courtesy SMCSO)
LEONARDTOWN, Md. (May 01, 2008)—Correctional Officer Will Thompson has been named as Correctional Officer of the Quarter for the fourth quarter of 2007 by the St. Mary's County Sheriff's Department. Thompson has been with the Department since March 5, 2007.
According to the Department, Thompson is a reliable, punctual, and career oriented individual who arrives to duty at least 45 minutes early and is always willing to work overtime when needed. They also say he is "passionate and thorough with his work."
The following event was cited as a reason for Thompson's selection: "On January 26, 2008, Thompson detected an odor of cigarette smoke coming from the annex side of the Detention Center. He immediately conducted a search resulting in the recovery of a lighter and cigarette. On the same day he also found a smoked cigarette in the kitchen inmate bathroom. Thompson goes the extra mile to enforce the security of the Detention Center."