By BEN MEYERSON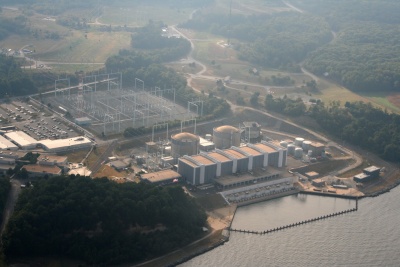 A third reactor is planned for the Calvert Cliffs Nuclear Power plant -- as seen from the air Oct. 8, 2005. (Photo: wikipedia.org. Reprinted in accordance with GNU Free Documentation License)
LUSBY (April 24, 2008) - Douglas Pardoe has lived here all his life.
In a quaint home just off Maryland Route 4, 74-year-old Pardoe has seen plenty of changes in Calvert County during his lifetime—not the least of which is the twin-reactor nuclear power plant that hums along just a few thousand feet from his home, built on land his family once owned.
The plant doesn't bother him or his wife, Barbara, one bit—but its planned expansion is another story.
"I have no fear of living here by the power plant," she said. "But I don't think they need another reactor."
Constellation Energy and the state of Maryland are moving forward on plans to add a third reactor to the Calvert Cliffs nuclear power plant, which Constellation hopes will be on line by 2015. The state of Maryland needs that power desperately: a report by the Public Service Commission late last year predicted a state energy shortage and rolling blackouts as early as 2011.
Slipped into a settlement of Constellation Energy's recent legal battle with Maryland is an affirmation that the company will add a reactor to Calvert Cliffs.
The state hopes that adding more capacity to its section of the electrical grid that powers the Mid-Atlantic region will alleviate its expected shortages.
But such an alignment of need, permission and desire has not always been the case where the new reactor is concerned.
Just as the state was beginning its review of Constellation's application for a certificate of public convenience and necessity—essentially a state permit for the new reactor—things were complicated by a volley of lawsuits between the parties.
Constellation and the state both claimed they'd gotten a raw deal when Maryland's electricity market was deregulated in 1999—a process that allowed multiple companies to bid on power created at the state's power plants and consumers to choose their power supplier.
Constellation—as part of its joint venture with French firm EDF, UniStar Nuclear Energy—had said it wanted to build the nation's first new reactor since 1996 at Calvert Cliffs, a site near Constellation's corporate headquarters in Baltimore, and where there was an outpouring of local government support.
"With the Calvert Cliffs plant, there's adequate property, it's well located, transmission access is good, the need for power is good, and it happens to be on a plant site," said Mike Wallace, president and chief executive officer of Constellation Energy Nuclear.
But the legal issues led UniStar to consider expanding a plant at Nine Mile Point near Oswego, N.Y., before Calvert Cliffs.
"There are so many issues that are there that, moving forward, we can't have all our eggs in one basket at Calvert Cliffs," Wallace said at a nuclear energy conference in early February, in the midst of the deregulation debacle. "If there's a problem, we're fast-tracking our New York alternative—it's right there."
Constellation spokesman Robert Gould agreed at the time.
"We're contemplating billions of dollars of capital expenditures in this state, and certainly we're hearing from Wall Street that they're concerned about a potential investment in a climate where there's regulatory and political instability," Gould said.
But March's settlement, signed by politicians and the company, affirmed that Constellation would "prioritize the development of Calvert Cliffs" over any other nuclear plant it controlled, assuming regulatory approvals and "acceptable financing" come through.
"Under this agreement ... (the state is) addressing Maryland's energy needs today and into the future," Gov. Martin O'Malley said in a statement on the settlement.
PSC Chairman Steven B. Larsen said the agreement "allows the PSC to focus on the future energy challenges Maryland faces."
Constellation seemed happy, too.
"This settlement allows our company and all Maryland stakeholders to move forward confidently on the many energy-related challenges and opportunities that lie ahead, including the potential for a new nuclear unit at our Calvert Cliffs Nuclear Power Plant," said Constellation President Mayo Shattuck in a news release.
With that roadblock removed, UniStar is back on track to make Calvert Cliffs the nation's newest reactor.
If everything goes by Wallace's estimation, UniStar would have a go-ahead from Maryland by year's end, with groundbreaking on early site work in December.
However, the federal government still hasn't blessed the project. UniStar plans to use a new reactor type called U.S. EPR that hasn't been implemented outside of Eurasia and needs U.S. Nuclear Regulatory Commission approval. Constellation also needs what's called a combined license from the NRC to construct and operate a new reactor at Calvert Cliffs.
Both these processes should run their course by the first half of 2011, Wallace estimated. If the licenses are granted by mid-2011, the new reactor could be operating commercially by 2015.
Larry Burkhart, who worked on Calvert Cliffs at the NRC, said the certification process is a new one. The NRC changed the process around 1989, after the last new reactor license application to be certified came in, so approval may take a longer as the commission shakes out the details.
However, Burkhart said he still expected the application to pass sometime in 2011.
Of course, many obstacles remain. The PSC and the NRC each will hold multiple hearings on the proposed expansion, and there are certainly people with things to say about a new nuclear power plant.
"Both locally and nationally, we believe that any expansion of nuclear power—as opposed to improvements in conservation and efficiency—is really the wrong way to go," said Frank Fox, chairman of the Southern Maryland group of the Sierra Club. "I see it as the government looking for easy ways out."
But Patrick Moore, a Greenpeace cofounder who left the organization partly in protest of the organization's nuclear energy policies, said such groups need to broaden their views.
"They say that climate change is going to cause the end of civilization and then reject the machine—the technology that is already available—they reject that as being evil," said Moore, who now works for the Clean and Safe Energy Coalition, which is funded by Washington-based lobbying group the Nuclear Energy Institute.
Expanding Calvert Cliffs first would be a great way to begin the nuclear renaissance, Moore said.
"It would be a real good model for that part of the country—it's far more controversial on the Eastern Seaboard than South and Midwest," Moore said. The East needs a nuclear leader more than any other region because of population congestion and a highly strained power grid, he said.
The new reactor would generate 1,600 megawatts, compared to 1,829 combined for the two already in place, and would increase the amount of power Maryland gets from nuclear energy from 20 to 35 percent.
Of course, integral to the project's success is local support. Calvert County backs the project, knowing the economic boon the first two reactors brought.
"Back in the early '70s, Calvert County was one of the poorest counties in the state, but it became one of the richest" when Constellation—then Baltimore Gas & Electric—brought Calvert Cliffs, said Danita Boonchaisri, a spokeswoman for the county Department of Economic Development.
"Our Board of County Commissioners took a stand at the beginning that we want to make this the most attractive place in the nation to restart nuclear energy," she said.
The new reactor would add about $20 million to the $17.3 million per year in taxes the county collects from the plant, according to Terry Shannon, Calvert County director of budget and finance. If it gets more expensive to build the plant, that means more money for the county.
The Pardoes are a bit more cautious about the plant's benefits, with Barbara saying she's not worried about a nuclear catastrophe, just how the county will function with another reactor straining its municipal resources.
"It's not mainly about the power plant, it's the county," said Barbara. "They say it'll lower our taxes—our taxes go up every year. ... As far as the economy, I do not see how BGE has helped this county one bit at all."
Douglas was indifferent where his power comes from, or who opposes it.
Environmentalists "don't want nuclear power because it's too dangerous, don't want coal because it's too dirty, and they don't want gas because it's too dangerous."
New Reactor Time Table

November 2007: Certificate for public convenience and necessity application submitted to Maryland Public Service Commission.

December 2007: Design certification application for U.S.-EPR submitted to Nuclear Regulatory Commission.

March 2008: Combined license application submitted to NRC.

December 2008: PSC grants state permit; UniStar breaks ground on preliminary site work (roads, visitor center expansion, other non-reactor infrastructure).

Early-mid 2011: NRC certifies U.S.-EPR reactor.

Mid-late 2011: NRC issues license for Calvert Cliffs 3; reactor construction begins.

Mid-2015: Calvert Cliffs 3 begins commercial operation.
Capital News Service contributed to this report.