St. Mary's College Senior's Project Focuses On Outlook of Young in Tanzanian Mtabila Refugee Camp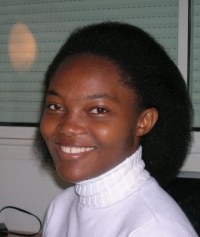 St. Mary's College of Maryland senior Nezia Munezero will premiere her documentary about her family's escape from war-torn Africa on April 28 in St. Mary's City.
ST. MARY'S CITY, Md. (April 24, 2008) - She remembers running from death as an eight-year-old past dead bodies lying in the dirt, running down a road crowded with panicked Rwandans and Burundians, running from a village that was home to a refugee camp across a border. This is how St. Mary's College of Maryland senior Nezia Munezero's long journey to America started, a journey that has shaped her life and influenced her choices at every turn.
Munezero's family first fled Burundi for Rwanda. They escaped Rwanda's genocide in 1994 for the Congo. When war in the Congo erupted, they left for a refugee camp in Tanzania. This camp was the family's home from 1996 to 2002, when Munezero, her parents, and six brothers and one sister immigrated to Baltimore.
The Tanzanian camp is the focus of Munezero's St. Mary's Project, a documentary about young people still in the camp. The world premiere of the film, The Faces of Hope, is April 28 at 7 p.m. in the Cole Cinema of the Campus Center. The event is free and open to the public.
The story of Munezero's life is made all the more remarkable by her optimism and her determination to portray the subjects of her film in a hopeful, positive light. She returned to Tanzania last summer with Deborah O'Donnell, Ph.D., assistant professor of psychology at the College, to interview her friends at the camp in an effort to show that these young refugees have the same dreams for the future as young people everywhere, that they are hopeful and not hopeless. "They have learned ways to survive," said Munezero.
She has kept in touch with her friends and schoolmates in the camp through letters and, later, e-mails. Many of them helped organize groups to be interviewed for the film. According to Munezero, "people there were happy" for her and not bitter that she was able to leave while they remained.
Munezero had to overcome obstacles in making her documentary that included the Tanzanian authorities' refusal to allow filming in the camp. Undeterred, she got permission to interview her sub-jects on a soccer field just outside the camp gates. Her facility for languages came into play as she translated interviews from Kirundi, the language of the Burundian refugees in the camp, into English, a language she learned at age 16 after starting at Southwestern High School in Baltimore.
One of Munezero's dreams for the future will be realized after her graduation from the College. She will attend the American University in Cairo to work on a master's degree in international human rights law. Humanitarian organizations such as UNICEF and the United Nations High Commissioner for Refugees, which she credits with keeping her family alive in the camp, have inspired her to work with such human rights groups after she receives her master's. She also plans to add to her repertoire of languages by studying Arabic.