Student Environmental Action Coalition Honored by County as 'Public Health Heroes' For Club's 'Green' Efforts on Campus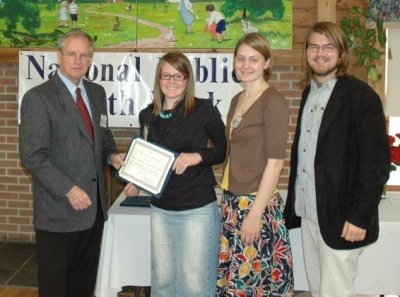 Dr. William B. Icenhower, St. Mary's County health officer, presents the Public Health Hero certificate to St. Mary's College of Maryland students Erin McDermott (left), Bonnie Veblen and Shane Hall at a Public Health Week awards breakfast. (Photo: Marc Apter)
ST. MARY'S CITY, Md. (April 22, 2008) - Three St. Mary's College of Maryland student leaders accepted Public Health Hero Awards from the St. Mary's County Health Department during National Public Health Week earlier this month. They received honors on behalf of the 300-member student club, SEAC (Student Environmental Action Coalition) for contributing to the betterment of public health through environmental activism on campus.
The theme of this year's Public Health Week was "Climate Change: Our Health in the Balance."
Randy Larsen, Ph.D., assistant professor of chemistry at the College, gave the awards breakfast keynote address. William B. Icenhower, St. Mary's County health officer, and Daryl Calvano, director of the county's Environmental Health Services, presented the students with a "Public Health Hero" certificate.
Earlier in Public Health Week, SEAC member Chelsea Howard-Foley and Kelly Schroeder, the College's assistant dean of students, joined county students of all ages for a proclamation reading on environmental health at a St. Mary's County Commissioners meeting.
Erin McDermott, Bonnie Veblen and Shane Hall led their campus community in initiating and demonstrating ways to save energy and preserve the environment. The club hosted several all-campus events that drew community and media attention to global warming.
One event, the Polar Bear Splash, saw dozens of students dash in and out of an icy St. Mary's River in January during Focus the Nation week, a student-driven, nationwide effort to call attention to climate change. Members of SEAC were also instrumental in supporting the installation of a geothermal energy system in the College's River Center and in efforts to reduce waste and improve recycling on campus, according to college officials.