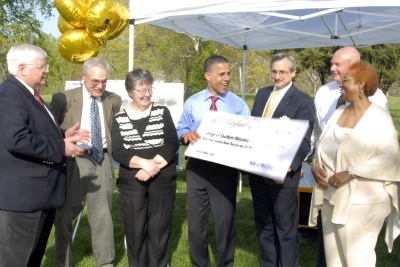 Lt Governor Anthony Brown visited CSM's Leonardtown Campus to present a ceremonial check for $11.7-million to fund construction of the campus' future wellness center. From left, Md. Del. John Wood, Leonardtown Mayor J. Harry Norris, CSM Trustee Mary Krug, Brown, CSM President Dr. Brad Gottfried, CSM Board Chair James Raley and CSM Trustee Dr. Janice Walthour celebrate the future center which will provide Southern Maryland residents with a pool, therapy pool, health and wellness classes, and fitness assessments and counseling. (Photo courtesy CSM)
LEONARDTOWN, Md. (April 22, 2008) – Maryland Lt. Governor Anthony Brown toured the Leonardtown campus of the College of Southern Maryland (CSM) on Friday and delivered a ceremonial capital check for $11.7 million to fund the college's new wellness center.
The 32,000 square foot project is scheduled to break ground by the fall and will be the fourth building on the campus. It is the largest project in St. Mary's County to receive funds in the state's 2009 capital budget.
"Expanding fitness and wellness opportunities for members of our community is a high priority," said Brown. "Providing opportunities for students and community members to participate in fitness programs helps improve upon their quality of life."
The one-story building will be home to two swimming pools, a variety of classroom spaces for aerobics, yoga and other fitness activities. In addition, the building will have specialized fitness assessment rooms for individualized consultations and fitness analysis.
"Lt. Governor Anthony Brown has been a tireless advocate of community colleges and has played a pivotal role in securing the funding for our new wellness center on the Leonardtown campus," said College of Southern Maryland President Brad Gottfried.
"We will be working closely with Lt. Governor Brown to ensure that Southern Marylanders have access to the high quality health and fitness programs and facilities that they deserve," added Gottfried.
The College of Southern Maryland is a public, regional community college serving more than 21,000 students at four campus locations in La Plata, Leonardtown, Prince Frederick and Waldorf.