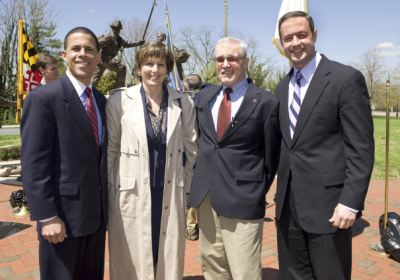 Governor Martin O'Malley and Lt. Governor Anthony G. Brown greet Leonardtown Mayor Chip Norris (2nd from right) and town administrator Laschelle Miller at the Fallen Firefighters Memorial in Annapolis. Leonardtown was named as a "Capital for the Day" at the event. (Photo courtesy Governor's office.)
ANNAPOLIS (April 21, 2008) – Leonardtown, in St. Mary's County, will serve as the Capital of Maryland for one day during the month of July. The announcement came last week from Governor Martin O'Malley. O'Malley was joined by Leonardtown Mayor Harry "Chip" Norris.
The move is part of the 2008 "Maryland Capital for A Day" program. Governor O'Malley and his Executive Cabinet will visit and run State government from several Maryland towns throughout the year as a show of unity.
"By working together with the diverse cities and municipalities throughout our One Maryland, we can strengthen our commitment to protecting our families, creating new jobs, growing our middle class, expanding and improving education, and bringing opportunities to more people," said Governor O'Malley.
Last year, Governor O'Malley and his Executive Cabinet held Capitals for a Day in Salisbury, La Plata, and Bel Air.
Other towns that were selected for the program this year include:
* May 2008 – Hagerstown, Washington County
* June 2008 – Chestertown, Kent County
* August 2008 – Pocomoke City, Worcester County
* September 2008 – Port Towns, Prince George's County (Cottage City, Edmonston, Colmar Manor, and Bladensburg)
* October 2008 – Cumberland, Allegany County
* November 2008 – Gaithersburg, Montgomery County
* December 2008 – Ellicott City, Howard County
RELATED INFORMATION:
Governor Visits Charles County; Declares La Plata 'Capital For A Day,' July 26, 2007
http://somd.com/news/headlines/2007/6173.shtml