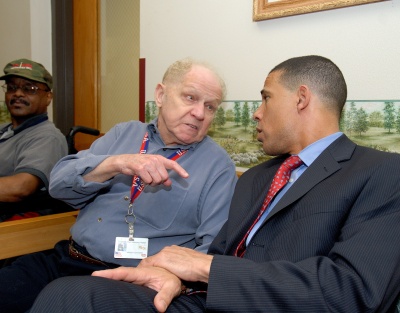 Lt. Gov. Brown takes time out to speak with Vincent Gutowski at the Charlotte Hall Veterans Home on Friday April 18. Official State House Photo (Mark O'Dell)
CHARLOTTE HALL, Md. (April 21, 2008) – Maryland Lt. Governor Anthony Brown toured the
Charlotte Hall Veteran's Home
on Friday. Brown was joined by several veterans from the Iraq and Afghanistan wars.
Brown used the opportunity to tout several legislative victories for military veterans including a new $2.8 million program that will provide mental and behavioral health services to Iraq and Afghan veterans, especially in rural areas. The program will be administered by the Maryland Department of Health and Mental Hygiene.
According to Brown's office, the program will eliminate gaps in services by providing crisis intervention, case management, improved outreach and direct health-related services to veterans of the Iraq and Afghanistan wars. Brown will chair a Veterans Behavioral Health Advisory Board and will work with a coalition of stakeholders to identify the gaps in behavioral health services for veterans and their families.
"Many Iraq and Afghanistan veterans are returning with traumatic brain injury and post-traumatic stress disorder which contributes to mounting human and social tragedies: unemployment, homelessness, substance abuse and divorce," said Brown.
Brown also highlighted $800,000 approved in the state's budget to enhance veterans reintegration programs to help them adjust back to their communities from combat zones. In addition, the state will provide $150,000 to eliminate the wait-list for the Iraq and Afghan scholarship program.
During the press conference, Forestville VFW Post Commander Bob Lambert presented a ceremonial check in recognition of a $69,000 contribution to Charlotte Hall and a $69,000 contribution to Cheltenham Veterans Cemetery. The VFW plans to close its doors.
Charlotte Hall Veterans Home is a long-term healthcare facility operated by the Maryland Department of Veterans Affairs. The Home opened in 1985 and has 504 beds located on 126 acres St. Mary's County.
The Home offers two basic programs of care: Assisted Living (226 beds), and Comprehensive Nursing Home Care (278 beds), including a 42-bed Alzheimer's unit. Clinical care and healthcare management at the Home are provided by a private contractor.
Source: Lt. Governor Anthony Brown's Office