Former Trustee, CSM Foundation Chair Heads 'Campaign For Next 50 Years'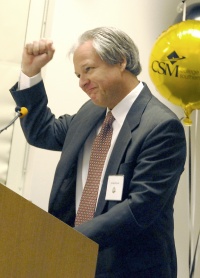 The College of Southern Maryland Foundation has named Michael A. Besche, president of Besche Oil Company, as chair for its "Campaign for the Next 50 Years."
LA PLATA, Md. (April 18, 2008)—As the College of Southern Maryland celebrates its 50th anniversary, it is embarking on its first-ever major gifts campaign, "Campaign for the Next 50 Years."
The campaign seeks to raise $5 million to fund an Institute for Science, Technology, Engineering and Math (ISTEM), a Regional Center for Trades and Transportation Technologies; and initiatives to address local nursing and healthcare workforce shortages; focus on educational excellence, and endow a student scholarship fund for access and success.
The CSM Foundation has named Michael A. Besche to be the chair for the campaign.
"Business and community partners have joined us in this effort, and I am very excited to announce that we have raised $3.2 million toward our goal. With the community's continued support, we know we can not only reach, but exceed our goal of $5 million," said Besche at a news conference on April 14 to announce the campaign.
Besche has been actively involved with CSM since the mid-1980s, providing the college with support in the development of programs and services, including the Health and Wellness Centers, the Center for Business and Technology and the St. Charles Children's Learning Center at the La Plata Campus. He served on the college's Board of Trustees from 1985-2000, as chair, 1994-96, and vice chair, 1993-94. He was chair of the CSM Foundation from 2005-07. Besche throughout his career with the college has worked on developing partnerships with community, business and local leaders.
"As the president of Besche Oil Company, I see the results of what the College of Southern Maryland has to offer. I see it in my employees, in my neighbors, and in how the college impacts the entire community of Southern Maryland," said Besche, who is also a past president of the Charles County Chamber of Commerce, a long-time member of the CSM Foundation, and a director for a variety of local Maryland businesses and technology firms in the region.
"The demands of our society require us all to be in a constant state of continuing our education. By developing partnerships and improving the quality of our workforce through education, we will be able to ensure the continued growth and prosperity of those living in the region," he added.
For information on the campaign, call 301-934-7649 or visit
http://www.csmd.edu/foundation/
.