Homeowner Questions Gas Company's Explanation for Cause of Fire
By Andrea Shiell, County Times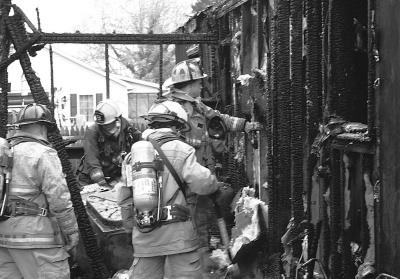 On Thursday, April 3, firefighters from Bay District, Lexington Park, Hollywood, St. Leonard, and Solomon's put out a raging house fire that was caused by an exploding propane tank. (Photo: Andrea Shiell)
HOLLYWOOD, Md. (April 10, 2008)—Kathy Darnall sighed and shook her head as droves of firefighters rushed past her to attend to a still-smoking house off of North Patuxent Beach Road in California.
"I get mad when I come home to dishes in the sink," she said. "I couldn't imagine coming home to this."
At 11:05 a.m. Thursday morning, April 3, firefighters from Bay District, Lexington Park, Hollywood, St. Leonard, and Solomon's answered the call for a house that was ablaze. Chief Joe Gould, one of the first on the scene, reported that the house was completely engulfed, with flames coming from the roof.
As details filtered in, it was discovered that the blaze had been ignited by an exploding propane gas tank. Darnell, a neighbor who lives a few doors down, said she had seen workers from the gas company at the home earlier, and shortly after they filled the gas tank, it exploded.
The owner of the home, Daniel Pease, arrived on the scene as firefighters quelled the flames. He said the gas company called him unexpectedly.
"They were filling the tank and when they went to disconnect the tank, it exploded," Pease said. "Taylor gas called me and they thought I was still in the house," he said, adding that he had been at work at the time, but his primary concern was his dog, a miniature schnauzer named Fred, who had been in his cage near the front closet when the fire started.
Though Pease came home to a smoking shell of a house, firefighters had managed to rescue his dog, much to his relief.
"He's ok, but how I'll never know," he said, adding that his dog was still shaking from the incident.
Pease seemed easygoing about the incident, saying, "I guess there's not much that could have been done."
When asked about his property, he said, "I'm more worried about the computer in there…I just bought a brand new $3,000 computer."
Still, Pease has some questions for the gas company about the incident. He said representatives from the Taylor Gas Company had told him the valve to his gas tank fell apart when workers were disconnecting it, leading to the explosion.
"The only thing that bothers me is if that valve was in that bad a shape, why didn't they say something before? Valves don't just fall apart like that," he said.
Pease is planning to stay with his girlfriend until his living situation is resolved. When asked about Fred, who is at a neighbor's house recovering, he smiled and said, "Well she has six other dogs, and Fred's been there before, so I think he'll be ok."