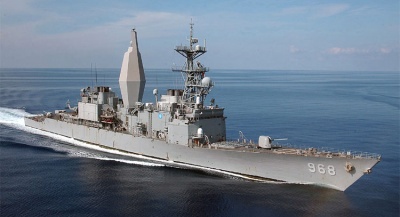 Navy Spruance Class Destroyer Ex Radford (DD-968) could become part of the largest artificial reef project on the East Coast. The USS Arthur W. Radford in the Mediterranean Sea, circa 27 November 2002. (Photo: USN)
ANNAPOLIS (April 7, 2008) — Governor O'Malley on Monday joined New Jersey Governor Jon Corzine and Delaware Governor Ruth Ann Minner in support of the Maryland Artificial Reef Initiative (MARI) to obtain the Navy Spruance Class Destroyer Ex Radford to create a new artificial reef. The initiative would help enhance habitat life off the Delmarva Peninsula and, if granted, would become the largest artificial reef project on the East Coast.
"Fishing in Maryland is not only a favorite pastime of many of our residents and visitors, but it also helps to drive our local economies and reconnect people with nature," said Governor Martin O'Malley. "I am honored to support the Maryland Artificial Reef Initiative's multi-state efforts to enhance habitat for marine life off the Delmarva Peninsula."
If the Navy grants use of the 564-foot vessel, it will be placed on a permitted artificial reef site known as DEL-JERSEY-LAND. The reef site is located approximately 30 nautical miles north east of the Maryland's Ocean City inlet, 28 nautical miles east of Delaware's Indian River Inlet in Delaware, and 32 nautical miles south east of Cape May, NJ.
"Anglers and sport divers from all three states would be able to access the site and the aquatic resources that will flourish there," added Marty Gary, Maryland Department of Natural Resources Fisheries Service Manager.
Supporters in the three states will soon begin fundraising to cover the costs necessary to reef the vessel. In Maryland, the Maryland Artificial Reef Initiative (MARI) has taken the lead in fundraising for artificial reef projects.
"The Radford project is the first three state co-operative reefing effort and will be the east coast's largest single artificial reef. I surely hope we can find funding in the private sector to help carry Maryland's share of the cost," said Captain Monty Hawkins. "I hope this is the first of many future interstate reef efforts, as the projects help bolster the coast's badly degraded natural coral reef habitat. Combined with proper fisheries management; reef building can and will restore some fisheries to populations not seen since World War II."
More than 55 partnering conservation organizations, businesses, foundations, outdoor recreational organizations, and countless individuals have provided resources to make MARI possible. Individuals can help with reef projects across the State by "buying a ton" via a tax-deductible donation to the Maryland Artificial Reef Initiative. The Maryland Artificial Reef Initiative was created in early 2007 to raise funds to facilitate development of marine habitat enhancement projects across the state.
Source: Maryland Department of Natural Resources (DNR)
RELATED INFORMATION:
More information about MARI
http://www.marylandreefs.org/
More Information on Ex Radford
http://en.wikipedia.org/wiki/USS_Arthur_W._Radford_
(DD-968)