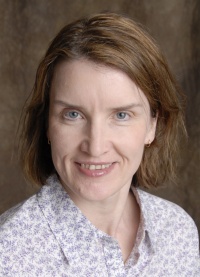 Edith Carron is the recent winner of the College of Southern Maryland's first Part-time Faculty Excellence Award.
LA PLATA, Md. (April 5, 2008)—Edith Carron doesn't see the world like most people do. The recent winner of the College of Southern Maryland's first Part-time Faculty Excellence Award, Carron teaches her students to appreciate the complexity of the truly small things in the world like microbes, bacteria, protists and parasites.
Carron, who has been on the faculty at CSM's Leonardtown Campus since 2003, teaches microbiology and zoology, but her discussions regarding microbiology are the ones that really engage her students. Carron holds a master of science in microbiology and a doctorate in molecular biology, all from the University of Latvia.
"I mainly teach nursing students and they are constantly challenging me because they are constantly reading books and keeping up on the academic journals." said Carron. "They know what they want, and what they want is real-world working situations, and luckily I can provide this"
Prior to coming to CSM, Carron worked for a bio-tech company and the National Institutes of Health where she did research on emerging pathogens like anthrax, small pox, and equine encephalitis.
"Both of my parents were chemists so I was naturally inclined to science. When I was younger, I thought I would study medicine and become a doctor. But, dissection turned me off, so I started to study viruses like HIV because they are so fascinating. They are constantly adapting and we have to learn to live with them, and this is what I tell my students," said Carron.
Carron believes that the hardest thing for some students to learn is the concept of what studying means—it means setting aside time for learning.
"Too often our students need to study but they don't have the time or don't know how to study. Some students come in with the misconception that because CSM is a community college the classes are going to be easy. But, the biological sciences are a challenge. There is an incredible amount of memorization involved; you need to know how to apply the concepts; you need to know how to calculate the proper dilutions of medications etc. It is a lot of work but it is also so gratifying," she said.
One of Carron's students feels that Carron's love and knowledge of microbiology motivates her students and helps to push them academically.
"Her courses are for those who have an extreme passion to succeed and obtain knowledge," described Lia Roper, a student in Carron's Biology 2010 who will transfer to a four-year college in the fall to major in biology and pre-pharmacy. "Professor Carron is not a professor for unmotivated students. She is demanding but the students who are taking her are either pre-medicine, pre-pharmacy, pre-veterinarian or nursing students. An A in her class is the result of backbreaking, strenuous, tear-jerking work and it is all worth it because microbiology is not a subject for the weak."
Carron joins 19 members of CSM's faculty who have been recognized by their peers, since 1989, for making outstanding contributions to teaching, curriculum and profession development with the college and the community at-large.
"I'm so glad part-time faculty is finally being recognized. We work just as hard to engage our students. Students really respond when teachers actively teach. It is what we should all be doing," said Carron.
For information on biological science classes call 301-934-7843 or 301-870-2309, Ext. 7843 for Charles County; 240-725-5499, Ext. 7843 for St. Mary's County or 443-550-6199, Ext. 7483 for Calvert County or visit
http://www.itc.csmd.edu/bio/.