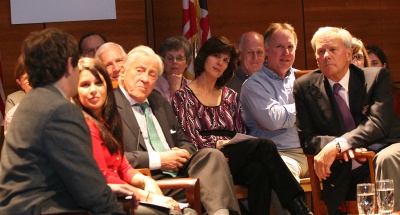 St. Mary's College of Maryland student Eric Schlein (left), editor of the College's Point News, asks a question of Tom Brokaw and Ben Bradlee (third from left) during a recent public forum on campus. (Photo courtesy SMCM)
ST. MARY'S CITY, Md. (April 2, 2008)—Bringing his trademark voice of integrity and reason, as well as a keen sense of humor, former NBC Nightly News anchor Tom Brokaw spoke to a packed audience at St. Mary's College of Maryland on Friday. Appearing alongside his long-time friend former Washington Post editor Ben Bradlee, Brokaw spoke on a variety of topics, ranging from the 40th anniversary of the assassinations of Martin Luther King and Bobby Kennedy and the overall social turmoil of America in the 1960s to the issues now faced by America's new generation of youth and their struggle to find a common voice in a world of 24-hour news and the Internet.
The event, called "An Evening with Tom Brokaw," provided a forum for questions from the audience as well from a panel that included Professor Michael Cain, director of the Center for the Study of Democracy; Professor Chuck Holden, associate professor of history; and student editors of the College's Point News, Eric Schlein '08 and Mariel Saez '09. Brokaw began the evening by giving a short talk about the themes of his best-selling books, The Greatest Generation and Boom!: Voices of the Sixties, and what lessons there are to be learned from those two defining periods of the 20th century.
Asked what he found most surprising while interviewing subjects for The Greatest Generation, Brokaw said he was impressed by the "quiet modesty" of so many of the people, who voluntarily made great sacrifices during World War II, and returned to civilian life only to take up new service and leadership roles. Concerned that college-age citizens today have an "attention span down to a millisecond" and "believe life can be found tapping on a keyboard," Brokaw said that, despite our technological advances, "To move forward requires that we take our hands off the keyboard, put our boots on the ground, and our hands in the dirt."
Service was a recurring theme of the evening. When Cain asked if there should be a period of manda-tory national service, Brokaw said that the lack of service on the part of America's citizens is due to a "failure of political leadership," in that our politicians cautiously avoid making demands or asking for sacrifice in the way people were asked during WWII or when John F. Kennedy famously said: "Ask not what your country can do for you; ask what you can do for your country." Bradlee added that every young person would benefit by spending "two years doing something good for your country." He closed the evening by urging the students in his audience to "find something that ignites your passion."