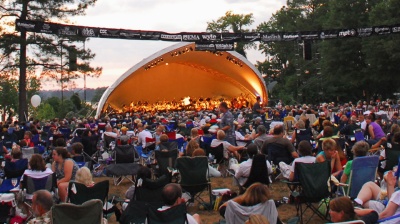 Spectators enjoy an outdoor concert on the grounds of the St. Mary's College of Maryland. This year's River Concert Series opens on Friday, June 13.
ST. MARY'S CITY, Md. (April 3, 2008) - The St. Mary's College of Maryland has announced that it's popular public outreach program, the River Concert Series, will return this summer for its tenth season. The series, which typically draws 5,000 concertgoers to each program, is known for its special blend of master works, world premieres, innovative collaborations and humor.
The series features internationally renowned recording artist and music director Jeffrey Silberschlag with the Chesapeake Orchestra. They are joined by distinguished artists and bright new talents.
This year's season opens Friday night, June 13 and continues on consecutive Friday evenings through July 25. The outdoor concerts begin at 7 p.m. and take place on the College's Townhouse Green, overlooking the St. Mary's River. Grounds open at 5 p.m.
Major corporate and private sponsors fund the program, so that it can be offered free to the public.
Among this season's headliners are Grammy award-winning soprano Susan Naruccki; Van Cliburn Gold Prize-winning pianist Jon Nakamatsu; tenor Jason Collins, first prize winner in the Richard Tucker & Mario Lanza competitions; Long-Thibaud Gold Prize-winning pianist Brian Ganz; and acclaimed jazz vocalist Hilary Kole, who has appeared at New York's Rainbow Room and Birdland. New works by composers Jeffrey Mumford, Aaron Kernis and David Froom will be presented, as will symphonic works, including those by Rachmaninoff, Mahler, Berlioz and Shostakovich. Fireworks over the river will highlight the July 4th concert.
The 2008 season will open on Friday, June 13, with "Feeling My Inner Celt," featuring the music of Elgar and Tobias Picker along with traditional Celtic music arranged for orchestra, with guest performances by violinist José Cueto, soprano Gwendolyn Degentesh, and jazz master saxophonist, Don Stapleson. The Rivers Series Celtic Dancers add to this over-the-top Celtic bash.
On Friday, June 20, the River Concert presents "Rocky III," which highlights St. Mary's partner music festival in Alba, Italy www.albamusicfestival.com with Italian-themed classics. These include Schumann's "Julius Caesar," Mendelssohn's Symphony No. 4, "The Italian," and the brilliant pianist, Jon Nakamatsu playing Rachmaninoff's Piano Concerto No. 3. (Nakamatsu's recent release of Gershwin Piano Concerto in F is No. 6 on Billboard's Classical Chart.)
"Just Kiss Me" (Friday, June 27) is the romance-themed concert featuring Cole Porter's "Kiss Me, Kate." Guest conductor Larry Vote, a Helen Hayes Award winner, will lead the Chesapeake Orchestra in collaboration with the Interact Theater Company. Vote is also the College's provost and a professor of music. Catherine Flye is the evening's stage director.
The popular Friday, July 4 concert honors America's great gift to the music world-jazz. "A Jazzy 4th" will feature guest vocalist Hilary Kole with sassy and brassy renditions from the American Song Book. (Kole appeared on the legendary Oscar Peterson's last recording.) The concert also features "American Ballads" by Morton Gould, Sousa marches, and Joplin ragtime favorites. The evening concludes with fireworks over the St. Mary's River to the dramatic accompaniment of Tchaikovsky's "1812 Overture."
Ill-fated love is the theme of the Friday, July 11 concert, "Love's a Hurtin' Thing." Maestro Sil-berschlag and the Chesapeake Orchestra feature Prokoviev's Romeo and Juliet and Fauré's Peléas and Mélisande. International flute star, Giuseppe Nova and prize-winning pianist, Brian Ganz are the featured soloists performing the works of Verdi and Shostakovich. Nova has been called one of the best Italian flutists of his generation and has performed in concert halls around the world. The prize-winning Ganz appears regularly at the Kennedy Center. The evening also marks the world premiere of "Striking Silver," by composer and American Academy of Arts and Letters Award winner David Froom. Froom is a Kennedy-Freidham and a Guggenheim Prize winner for his works.
At the Friday, July 18 concert, all will be "Simple and Beautiful," thanks to a performance by Grammy Award winning soprano Susan Narucki. She will perform Aaron Kernis' "Simple Songs," and Berlioz's "Les Nuit d'été." Also featured on the program are Brahms' Symphony No. 3 and Franz Wax-man's Overture to "Anne of the Indes." The Boston Globe wrote that Naruki "has intelligence, wit, presence, drop-dead musicianship, and a voice you want to hear." Her recent appearances include per-formances with Pierre Boulez and the Cleveland Orchestra, Michael Tilson Thomas and the San Francisco Symphony, the Schoenberg and Asko Ensembles on Great Performers at Lincoln Center, and at the Netherlands Opera.
The final concert of the 2008 season takes place on Friday, July 25, with "Song of the Earth." Rising stars Olivia Vote (mezzo soprano) and tenor Jason Collins will celebrate our planet's beauty through song with Coleridge-Taylor's "Overture to Hiawatha," Mumford's "Verdant and Shimmering Air…," and Mahler's "Das Lied von der Erde."
The Chesapeake Orchestra is made up of outstanding musicians who are also members of the Kennedy Center, Baltimore Opera Orchestra, and the top military bands and orchestras of Washington, D.C.
Music Director Jeffrey Silberschlag has distinguished himself in the world of music, performing as a conductor and trumpet soloist throughout Europe, the United States, Russia, China, and Israel. His performances have been described as "compelling" by Germany's Kölnishce Rundschau; "extraordinary" by Italy's L'Arena; and "outstanding" by Fanfare magazine. Silberschlag has recorded as conductor and soloist with the London Symphony Orchestra, London Philharmonic, Royal Liverpool Philharmonic, Seattle Symphony, Czech Radio Orchestra, Warsaw Philharmonic, and the Maryland Bach Aria Group. Many composers have dedicated works to him, including William Thomas McKinley, Paul Chihara, Morton Gould, Lorenzo Ferrero, Robert Hall Lewis, Ludavico Einaudi, James Cohn, David MacBride, Leo Eylar, Roger Davidson, John Carbon, Lou Karchin, Scott Wheeler, Chou Wen-Chung, Kenji Bunch, Judith Shatin, Vivian Aldenberg Rudow, and his colleague at St. Mary's College, David Froom. He holds the music directorship of Northern Italy's Alba Music Festival concurrently with the River Concert Series. Silberschlag is the College's Steven Muller Distinguished Professor of the Arts.
The River Concert Series is the cornerstone of growing arts activities at St. Mary's College of Mary-land and throughout St. Mary's County. Some 5,000 music lovers attend each Friday evening to enjoy music, food and wine while watching the sun set over the St. Mary's River. Concertgoers can bring their own food and beverages, or buy them from vendors along what has become known as the "Côte de Crabe," which overlooks the river. Seating is "bring your own chair" style. Seating areas are designated with humorous signs that suggest where both the serious listener and the more social listener would be happiest.
River Concert Series is a partner with the Alba Music Festival in Italy and has a complete summer se-ries of master classes and activities for talented college students through its River Concert Series School.
More information is available at
http://www.riverconcertseries.com/
.