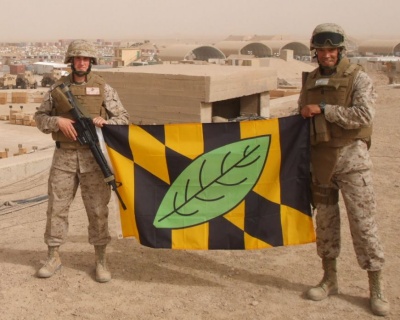 Pictured with the Calvert County flag in Iraq are U.S. Marines Lt. Cpl. Jeremy Gott (left) and SSgt. Michael W. Pitcher. Both men are from Lusby in Calvert County.
PRINCE FREDERICK, Md. (April 1, 2008)—An official Calvert County flag has made its way to Iraq. In early March, Staff Sergeant Michael W. Pitcher of Lusby, currently stationed in Iraq with the U.S. Marines, contacted Sheriff Mike Evans with a special request. Pitcher and Lt. Cpl. Jeremy Gott, also of Lusby and currently stationed in Iraq, wondered if it were possible for them to get a Calvert County flag sent to them, saying he had searched high and low and couldn't find one. Pitcher promised the Sheriff he would bring it home safely.
Sheriff Evans says he immediately contacted the Calvert County Commissioners and made arrangements to have a flag shipped to Iraq.
The flag features a green tobacco leaf over the yellow and black stripes that are also found in the Maryland State flag.