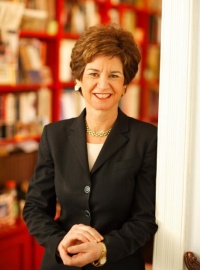 Kathleen Kennedy Townsend, former lieutenant governor of the State of Maryland.
ST. MARY'S CITY, Md. (April 1, 2007) - On the 40th anniversary of Martin Luther King's assassination, Kathleen Kennedy Townsend, former lieutenant governor of the State of Maryland and daughter of Robert F. Kennedy, will give a public lecture at St. Mary's College of Maryland (SMCM). The lecture is on Friday, April 4 at 8 p.m., and is titled "Martin Luther King Jr. and Robert F. Kennedy: Remembering the Advocate and the Politician 40 Years Later."
The talk will be in the Auerbach Auditorium at St. Mary's Hall and is free and open to the public. A reception will follow in the Blackistone Room of Anne Arundel Hall.
"In the midst of our own history-making presidential campaign, many of us wish that King and Bobby Kennedy were around to see it unfold," said Michael Taber, the director of the College's Paul H. Nitze Scholars Program, which is sponsoring Townsend's visits. "They set in motion so much more than they knew."
This is Townsend's fourth and final public lecture at SMCM as the Paul H. Nitze Senior Fellow for 2007-08. Her first lecture was based on her book, Failing America's Faithful: How Today's Churches Are Mixing God with Politics and Losing Their Way, which was published in 2007. Her second lecture focused on the role of women in politics, and her belief that this is the "breakthrough century for women." In her third appearance she discussed the campaign strategies of Democratic presidential candidates Hillary Clinton and Barack Obama.
Reflecting on Townsend's personal background and how it relates to her forthcoming talk, Taber said, "[She] was a teenager in that spring when King and then her father were assassinated. Yet she resolved even in those moments not to let bitterness drown out hope. When her father, Bobby Kennedy, informed a crowd on his presidential campaign trail in Indianapolis that King had been killed, the emotions were palpable. Yet among the many cities in which rioting broke out that night, there was calm in Indianapolis."
Each year, the College invites an accomplished writer, journalist, or other professional figure to be the Nitze Senior Fellow and to make several visits to the campus. Last year, David Sanger, New York Times chief correspondent for the White House, met with classes in political science, economics, and Nitze Program seminars, and had a discussion with the staff of the College newspaper, The Point News, about careers in journalism. Previously, author Edward P. Jones had given public readings from his Pulitzer prize-winning novel, The Known World, and joined a panel discussion about why writers write.