By Guy Leonard, County Times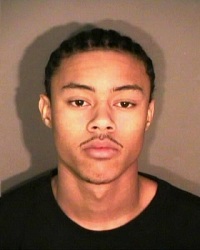 20-year-old Johntonna Young, received life in prison for murdering a former U.S. Navy enlisted man, Kenneth James Walters, on Feb. 27, 2007. (Arrest Photo)
HOLLYWOOD, Md. (March 20, 2008)—Circuit Court Judge C. Clarke Raley sentenced 20-year-old Johntonna Young to life without parole for the killing of an aircraft mechanic in February of 2007 in Lexington Park, the county's only homicide last year.
Young was convicted in September of killing Kenneth James Walter, 24, by shooting him twice in the head when the victim came out to his running automobile on a winter morning and found Young in the backseat of his car, apparently attempting to steal certain items.
Young, according to court testimony at his trial, used a Glock 19 9mm handgun that had been stolen in an armed robbery of The Tackle Box just days before.
The victim's parents Cynthia and Guy Walter both delivered impassioned pleas to the court asking for the maximum penalty for their son's killer.
"I'm here in Maryland where I should be visiting my son," said Cynthia Walter tearfully from the witness stand. "But instead I'm in this court room looking for justice."
Cynthia Walter described her son as a well-loved veteran who had made friends literally across the globe from his service in the U.S. Navy.
She said that the family had held two memorials for her son because of all the people he left behind and both were filled.
"He had his whole life ahead of him," she said of her dead son. "Kenny was not in the wrong place at the wrong time… his life was taken by Johntonna Young."
Guy Walter called Young a "coward" from the witness stand for "laying in wait" to shoot his son.
When he left the witness stand he looked directly at Young and told him: "You are nothing."
"The citizens of Lexington Park and St. Mary's County need to be protected from Young," the victim's father said. "He's a career criminal who's graduated to murder."
Both State's Attorney Richard Fritz and Young's attorney Public Defender Sean Moran agreed that Young's lengthy juvenile record was a warning that the juvenile justice system had failed to rehabilitate him.
"Unfortunately they failed him [Young] and the state of Maryland and Kenneth James Walter in this case," Moran said to Raley, asking for the possibility of parole for his client.
Moran also said that Young came from an abusive, broken home, suffered from learning disabilities and traded prescription medication for marijuana and alcohol to self medicate and deal with his circumstances.
Young had been diagnosed with Attention Deficit Hyperactivity Disorder as well as being bi-polar while still in elementary school, Moran said.
This, plus his lack of education, led to his client "having little chance of succeeding in the community."
Fritz, however, argued that the senseless nature of the killing necessitated Young's being sentenced to life with out the possibility of parole.
He said some homicides involving people engaging in risky or even criminal relationships and circumstances could be partially understood.
Not so the murder of the victim, Fritz said.
"What is not understandable is the random, senseless killing of people walking down the street in the normal course of their lives," Fritz told the court. "This is one of the most cold-blooded, executiontype murders I've seen in 30 years.
"This case points to the total failure of the juvenile justice system. This case should signal something to those in that system."
Young declined to say anything during his sentencing hearing when asked offered the chance by Raley.
Young's family watched, mostly in silence as Raley pronounced his sentence.
Because of the jury's guilty verdict, Raley said, as well as the statements made by the victim's parents he "without hesitation and from the belief that no other sentence could be rendered in this case" sentenced Young to life in prison without parole as well as to a 20-year consecutive sentence for the use of a handgun in the commission of a felony.
RELATED INFORMATION:
Man Found Dead, Shot in Head, in LP City Tuesday Morning, Feb. 27, 2007
http://somd.com/news/headlines/2007/5478.shtml
Arrests Made In St. Mary's Homicide And Two Armed Robberies, March 05, 2007
http://somd.com/news/headlines/2007/5505.shtml
Murder Trial Opens In Johntonna Young Case, Sept. 20, 2008
http://somd.com/news/headlines/2007/6442.shtml
Obituary for Kenneth James Walter
http://somd.com/announcements/obits/report.php?rec=475