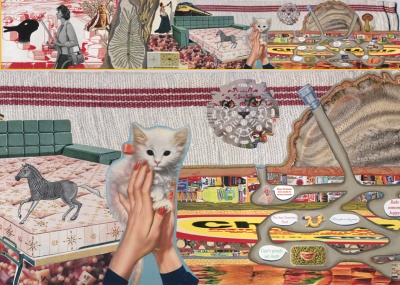 Artist and St. Mary's College of Maryland professor Sue Johnson's Alice Redux panorama is showing at New York's Schroeder Romero/Winkleman Gallery Project Space. (Photo: Mark Gulezian)
(St. Mary's City, MD) (March 20, 2008)—St. Mary's College of Maryland Art Professor Sue Johnson's artwork is the focus of a new exhibit in a respected New York gallery. Johnson's "Alice Redux" panorama will be on display at New York City's Schroeder Romero/Winkleman Gallery Project Space through April 26. An opening reception is scheduled for April 4 from 6 to 8 p.m. The gallery is located at 637 West 27th St., New York, NY.
Johnson's work, "Alice Redux," is an archival inkjet print with hand painting in acrylic on paper. The 20-foot-long panorama imagines Alice grown up and finding her way through a dream world cluttered by the flotsam and jetsam of modern consumer culture. Advertising images of everyday products appear alongside allusions to the Lewis Carroll tale, making the work a contemporary fantasia of incongruous imagery. Johnson's imagery blends Surrealism's embrace of chance juxtapositions with a Pop twist. She creates her original digital collage from images cut from magazines, cookbooks, supermarket circulars, old encyclopedias, or scans of everything from rock samples to a ceramic mushroom-thermometer. The collage is then printed out on watercolor paper onto which the artist continues to build the image by hand-painting passages in acrylic paint.
Other related sculptural works by Johnson are also being shown through June 15 at the Lora Robins Gallery of Design from Nature, University of Richmond Museums. Her "Eating Wonderland" exhibition premieres her recent ceramic work, the "Incredible Edibles" series, created by Johnson at the Arts/Industry residency program of the John Michael Kohler Art Center in Wisconsin. The ceramic castings are of dinnerware and popular foodstuffs depicted with humor and a focus on the themes of consumption, marketing and mass production.
Sue Johnson is professor of art in the Department of Art and Art History at St. Mary's College of Maryland, where she has taught painting, drawing, printmaking and book arts since 1993. She has served as the college's Steven Muller Distinguished Professor of Arts (2003-2007) and was awarded the Norton Dodge Award for Outstanding Creative and Scholarly Achievement in 2006. Johnson received her BFA in studio art from Syracuse University and her MFA in painting from Columbia University. She has had one-person exhibitions at university museums and colleges nationwide, and is the recipient of several national grants, fellowships and residencies.