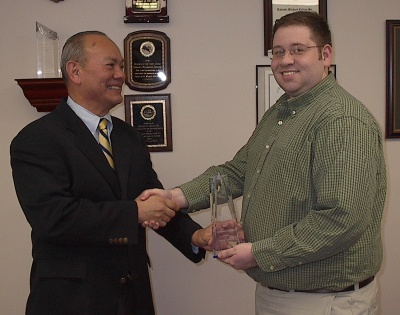 RMC Inc. CEO Michael Colina (left) presents St. Mary's College of Maryland graduate David Hickman with the firm's Employee of the Year award.
ST. MARY'S CITY, Md. (March 20, 2008)—David Hickman was recently named Employee of the Year at Resource Management Concepts (RMC), Inc. in Lexington Park, Md. Hickman is a 2007 alumnus of the St. Mary's College of Maryland in St. Mary's City.
Michael Colina, president and CEO of RMC, Inc. praised Hickman's contributions to the Information Technology (IT) team and the company as a whole: "His technical and management knowledge, critical thinking, and skills and abilities put him above and beyond his contemporaries. David has demonstrated strategic planning capabilities for technical infrastructure and for current and forecasted technological developments, which are much more mature and sophisticated than one could expect from a junior professional."
Resource Management Concepts, Inc. provides information technology, environmental, occupational safety, and force protection services to the federal government. As lead system administrator for the IT office, Hickman is responsible for keeping the technology his customers use up and running.
Jeff Brown, director of IT and Hickman's immediate supervisor, also praised his accomplishments over the past year: "David exudes the passion of a new college grad and the technical skill of a seasoned IT professional. He is resourceful enough to tackle any technical task regardless of complexity, and is not intimidated by unfamiliarity."
Hickman, from Leonardtown, Md., majored in Computer Science at St. Mary's College of Maryland, completing a senior project on incorporating ethics into introductory computer science classes. He also worked at the Technology Services desk on campus, assisting other students with their computer troubles.