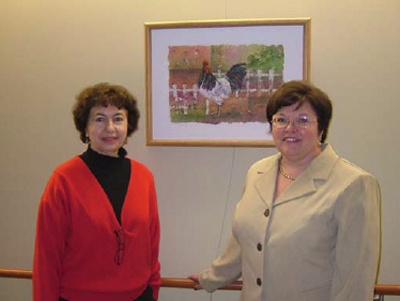 Connie Miller, Charles County artist, and Chris Stefanides, Civista CEO, stand next to one of Miller's watercolors in the new art gallery space within the Civista Medical Center in La Plata.
LA PLATA, Md. (March 15, 2008) — On February 26, the dream of a local art gallery space in the Civista Medical Center became a reality. The new gallery is the result of a partnership between the Charles County Arts Alliance (CCAA), the Mattawoman Creek Art Center, and the Civista Medical Center.
"I am very excited that Civista is able to provide display space for area artists," said Chris Stefanides, Civista CEO. "In addition to promoting artists in our community, this partnership helps to further my goal of enhancing the patient and family environment at the hospital by providing another dimension of the healing environment through art. We are thrilled with our partners in offering this collaborative effort."
The gallery space is located in the new section of the hospital. Immediately upon entering through the new entrance, visitors see the information desk before them with a spacious lobby. The gallery space is also within view, between the Information Desk and snack bar/gift shop.
The founders of the gallery say the new initiative is starting small with a single wall of space, but allows for expansion as artist and public interest dictate.
"The mission of the CCAA is to promote ALL the arts in Charles County—visual art, music, drama, dance and literature—and we are just delighted to be partnering with Mattawoman Creek Art Center and Civista to present this beautiful and professional gallery space that spotlights our very talented Charles County visual artists," said Diane Rausch, CCAA President.
This new gallery space is the first one, of the several non-profit galleries operated within Charles County, with accessibility to the public around-the-clock.
The founders say it is their hope that this additional venue will assist local artists in receiving the exposure they deserve.
Connie Miller is the first artist to have her work on display at Civista Gallery. Miller is a native Marylander, living and painting on Cobb Island.
Although she has worked in multiple media, Miller says she prefers working in watercolors because of their transparency, spontaneity, and freshness. Her watercolors have won an array of art awards and are included in both private and corporate collections. Additionally, she has painted numerous commissioned paintings.
Miller's work has been exhibited throughout Southern Maryland and in Virginia. She serves as the vice president of the CCAA, and spearheads the popular CCAA Regional Artist Workshop Series.
Her exhibit will hang through March 2008.
Artists interested in exhibiting their work in the new Civista Gallery may contact the CCAA at 301-392-5900. CCAA staff will work with MCAC staff in coordinating a schedule of exhibits at two month intervals.
Other non-profit Galleries with current exhibits in Charles County:

County Commissioners Gallery
200 Baltimore Street, La Plata
Open weekdays during government business hours (8 am – 4:30 pm)

CCAA Gallery at the United Way
10250 La Plata Road, La Plata
Open most weekdays from 9:00 am – 4:00 pm

Richard Clark Senior Center Gallery
1210 Charles St., La Plata
Open most weekdays from 9:00 am – 4:00 pm

Tony Hungerford Memorial Gallery
College of Southern Maryland Fine Arts Center, 8730 Mitchell Road, La Plata
Open most weekdays from 9:00 am – 5:00 pm, and during events at the Fine Arts Center

Walter Grove II Memorial Gallery
Features works by exceptional CSM students working in visual mediums
College of Southern Maryland Fine Arts Center, 8730 Mitchell Road, La Plata
Open most weekdays from 9:00 am – 5:00 pm, and during events at the Fine Arts Center

Mattawoman Creek Art Center
Smallwood State Park, off Route 224, Marbury
Open Fridays, Saturdays, and Sundays from 11:00 am – 4:00 pm