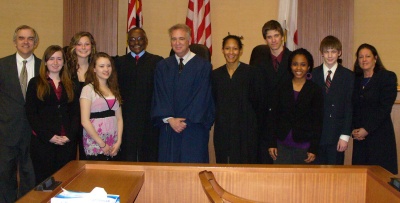 From left to right: Samuel C.P. Baldwin, Jr., attorney/coach; Kristina Mooney, attorney; Alexa Woods, attorney; Tara Hamilton, witness; the Honorable William D. Missouri, Circuit Administrative Judge, Seventh Judicial Circuit Courts; the Honorable Peter B. Krauser, Chief Judge, Court of Special Appeals, the Honorable Krystal D. Alves, Associate Judge, District Court of Maryland; Ryan Fleming, attorney; Imani Henderson, witness; John Houser, witness; Leeanne Carr, teacher/coach. Absent: Jonathan Booz, Sarah Duff and St. Mary's Ryken Principal, Rick Wood.
UPPER MARLBORO, Md. (March 14, 2008)—On Thursday evening, the St. Mary's Ryken Mock Trial Team won the finals of the Southern Maryland Regional High School Mock Trial Competition held at the Circuit Court in Upper Marlboro. St. Mary's Ryken emerged from a field of 33 public and private Southern Maryland schools in order to reach the finals of this competition.
Ryken won in the first round of the playoffs, and went on to the second round of the playoffs to beat the 2nd ranked team from Duval High School by a single point. In the semifinals, Ryken defeated the top ranked team and last year's regional winner and state finalist, Bowie High School, by 3 points.
In the championship round, Ryken competed against CH Flowers High School. At the conclusion of approximately two hours of testimony, examination, cross examination, and argument, the Judges awarded Ryken the win with an impressive 10 point margin of victory.
Ryken now advances to the state finals to compete against the seven other regional finalists.
This is the 25th year for Mock Trial - over 38,000 students have participated in this competition since its inception. The purpose of Mock Trial is to provide students with opportunities to learn -through case preparation with the attorney advisor, teacher coach and teammates, the competition with other schools, and various interpretations and perspectives of our law and legal system.