LA PLATA, Md. (March 14, 2008) - The Charles County Sheriff's Department recently released the following incident and arrest reports.
DRUG ARREST: On March 12 at 10:30 p.m., Charles County Sheriff's Officer J. Clagett stopped a vehicle on Route 301 near Old Stagecoach Road in La Plata for speeding. Investigation revealed the driver, Jerome Young, Jr., 24, of Newburg, was in possession of marijuana and drug paraphernalia. He was arrested and charged with possession of marijuana, possession of drug paraphernalia and speeding. He was released from the Charles County Detention Center on his personal recognizance.
BURGLARY: On March 12 at 9:08 a.m., Charles County Sheriff's Officer J. Walter responded to the Pinefield shopping center in the 2000 block of Crain Highway in Waldorf for the report of burglaries that occurred previously. Investigation revealed suspect(s) forced entry through the back doors of Mega Nails and Mariner Finance and stolen money from cash registers. The suspect(s) also attempted unsuccessfully to force entry into Onyx Hair Salon, Beijing Restaurant and Celebrating with Flowers. Anyone with information about the burglaries is asked to contact the Sheriff's Office at 301-932-7777 or Charles County Crime Solvers at 1-866-411-TIPS.
SEEKING THEFT SUSPECT'S IDENTITY: The Charles County Sheriff's Office is seeking information about the identity of the suspect in a check fraud investigation and Charles County Crime Solvers is offering a reward for information that leads to an arrest or indictment.
On Dec. 21, the suspect made five attempts to cash stolen checks at branches of Maryland Bank and Trust in Charles County. Two of the attempts were successful. The suspect cashed the checks, which had been stolen from a doctor's office in Calvert County, by providing a counterfeit Maryland driver's license in the name of Gerard Yoest to the bank tellers.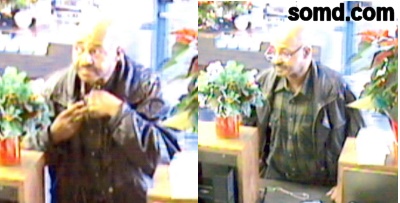 The suspect is described as a black man between 45 and 65 years old. He has been seen driving a beige or gray sport-utility vehicle. Surveillance photographs obtained from one of the banks is displayed above.
Anyone with information about the suspect's identity is asked to contact Det. K. Klezia of the Financial Crimes Unit at 301-609-6479 or 301-932-2222. Those with information may also call Crime Solvers at 1-866-411-TIPS. Crime Solvers is offering a reward of up to $1,000 for information and all callers remain anonymous.