By LAURA SCHWARTZMAN, Capital News Service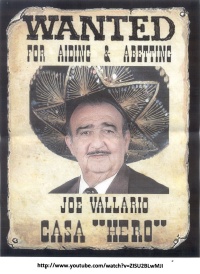 A flier submitted to the House Judiciary Committee Tuesday depicting Chairman Joseph Vallario, Jr., D-Prince George's, as "wanted for aiding and abetting" illegal immigration. Vallario ordered the fliers removed. The poster also references a YouTube video of a Feb. 25
CASA of Maryland
Rally in Annapolis. Vallario is shown speaking to the presumably immigrant crowd as his words are translated into Spanish. The poster of the video uses the name
AndAnotherThing
and identifies his hometown as Washington, D.C. His online comments include criticism of Presidential candidate John McCain for his position on immigration and amnesty.
ANNAPOLIS (March 13, 2008) - Fliers proclaiming House Judiciary Committee Chairman Joseph Vallario, Jr., D-Prince George's, as "wanted for aiding and abetting" illegal immigration were removed from a Tuesday evening hearing after he took offense.
The fliers, which depict Vallario wearing an ornate, Mexican-style sombrero, were denounced as racist by one legislator, but others defended them as legitimate free speech.
Delegate Victor Ramirez, a Democrat from Prince George's County who serves on the committee, said the flier was "blatant racism."
"I'm hurt that people would resort to this type of action rather than talk about the issues like grownups," said Ramirez, who was born in El Salvador. "The true colors of some of the bills' proponents came out [Tuesday]."
Vallario brushed off the episode a day later but was visibly angry during Tuesday's hearing about several immigration-related bills. After ordering the fliers removed, Vallario chided Delegates Warren Miller, R-Howard, and Patrick McDonough, R-Baltimore County, telling them they were fortunate he was even hearing their immigration-related legislation.
"We don't accept literature that tries to intimidate or harass people," said Vallario, who is of Italian heritage, in an interview Wednesday.
But the Republican delegates, who both sponsored bills to prohibit "sanctuary city" policies that bar local government employees and police officers from asking someone's immigration status, said they had nothing to do with the flier.
Susan Payne, a Montgomery County resident and executive director of the Maryland Coalition for Immigration Reform, submitted the fliers along with written testimony.
Payne said the poster was "tongue-in-cheek" political humor. But after a six-hour wait to testify in support of bills that would target illegal immigration, Payne was cut short in the midst of a heated discussion with Vallario.
A security officer was called, but Payne escorted herself out after refusing to answer committee members' questions because her "time was up."
"Maybe at the next election, you'll be voted out and your time will be up," she yelled at Vallario as she was leaving.
In an interview Wednesday, Payne said she was cut off after trying to repeat Vallario's statements to pro-immigrant advocates at a Feb. 25 Annapolis rally. A YouTube link to a video of Vallario at the rally was printed on the wanted poster Payne distributed.
"Either he doesn't comprehend the First Amendment or he's ashamed of his own pandering," she said.
Delegates Miller and McDonough said the flier was free political speech protected under the First Amendment.
"This was essentially, to me, humorous with a cutting edge," McDonough said. "You've got to be careful? she felt angry by the fact that she was being denied her free speech? and I think she was denied that right."
Delegate Richard Impallaria, R-Baltimore County, a co-sponsor of bills discussed in the hearing, shrugged the flier off as a joke.
"[Vallario] looks good in that picture," he said. "Look at that smile."