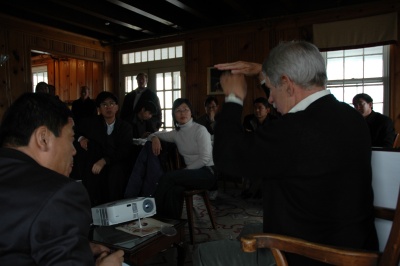 Robert Paul (right) describes to Chinese delegates from the Yellow River Conservancy efforts to protect the St. Mary's River from run-off and sedimentation, problems affecting China's Yellow River to a much greater degree.
ST. MARY'S CITY, Md. (March 13, 2008)—It is hard to imagine what China's Yellow River and Maryland's St. Mary's River have in common, but in a word, it is "sediment." Both rivers need varying degrees of help, and St. Mary's College was the site of a meeting in late February between a Chinese delegation seeking advice and St. Mary's River environmental experts.
Dr. Robert Paul-an aquatic biologist with the College and head of the school's St. Mary's River Project-and Potomac River Association (PRA) president Erik Janssen and member Robert Elwood met with the Yellow River Conservancy, which employs 35,000 Chinese. They offered practical lessons from their experience monitoring the St. Mary's River.
The delegation contacted the PRA to get information on how rivers and estuaries are managed in the Chesapeake Bay watershed, according to Elwood.
The Yellow River is the "mother river" of China--the cradle of Chinese civilization. At almost 3,400 miles in length, it is the second longest river in China after the Yangtze. Modern China is also home to about half of the world's 45,000 huge dams.
The Three Gate Gorge Dam on the Yellow River led to the resettlement of 400,000 people and now reportedly produces less than a third of the hydropower projected when it was built. One reason is that sediment is clogging the dam's turbines.
The once great river is also suffering from a dramatic decrease in water flow because of overuse for agriculture and declining precipitation. Water diversion for agricultural use has resulted in sections of the river running dry and thus failing to flow into the sea.
Some American rivers are experiencing the same fate, including the Colorado River, according to Paul, whose waters irrigate California farmland.
More than 155 million Chinese rely on the Yellow River for water as does 15 percent of the country's farmland. Among the river's ills is worsening pollution from waste water and industry. Some 4.35 billion tons of waste water were dumped into the Yellow River in 2005, more than 73 percent of which was discharged from factories, according to China.org.
The St. Mary's River has little or no industry along its shores and is less densely populated than most East Coast watersheds, yet sedimentation and pollution have degraded water quality here too, and are killing marine life and sea grasses. Like the Yellow River, St. Mary's River is experiencing a degra-dation of water quality that is partially attributable to agricultural run-off. "It has similar problems as the Yellow River, like sedimentation and pollution, just not as high," said Wu Dong, an official with the conservancy.
Paul, who has studied the St. Mary's River for almost a decade, talked about the St. Mary's River Project's efforts to sample the river's water quality at fixed stations in the river's tidal and non-tidal waters. He explained that sampling is also used to examine conditions at different water depths. These monitoring methods when used over a long period of time give a good picture of a river's health.
Paul said most of the St. Mary's River's water quality problems stem from run-off and landscaping practices. Storms and soil erosion carry harmful nutrients and sediment into the tidal river. "The oyster population is way down, and there's the problem of oxygen content at the river bottom," Paul said.
Although land use issues are vastly different for the two watersheds, the damaging results of poor development practices, erosion, run-off and sedimentation are the basically the same.
Paul and the PRA described to the delegation their efforts to develop a balanced, comprehensive set of recommendations for actions that protect, enhance and restore the St. Mary's River watershed while accommodating planned development in the fastest growing county in the state.
One tool Paul is working to enlist in documenting shoreline erosion along the river involves photography supported by Global Positioning System (GPS) and Geographic Information System (GIS) technology. Both GPS and GIS will help more clearly document areas of concern that need to be brought to the attention of elected officials, ac-cording to Paul.