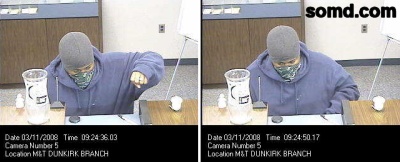 Surveillance photos from the M&T Bank in Dunkirk show the suspect who is currently wanted for robbery. (Click for larger image)
PRINCE FREDERICK, Md. (March 12, 2008)—On Tuesday morning, yet another bank in southern Maryland was robbed. This time it was the M&T Bank located at 10090 Southern Maryland Blvd., Dunkirk, in Calvert County.
Around 9:25 a.m., Maryland State Police and Calvert County Sheriff's officers responded to the bank in response to a report of an armed robbery.
Investigators say the lone suspect announced a robbery and demanded money from several bank tellers. According to witnesses, the suspect did not actually display a weapon during the commission of the robbery, but threatened to shoot several of the tellers.
The suspect made it out of the area with an undetermined amount of currency.
Police say the suspect was last seen wearing black pants, a dark blue "hoodie" style sweatshirt, and brown boots. The suspect was wearing a green and white bandana over their face and a grey skull cap. The suspect is described as having a heavy built standing approximately 5'01" to 5'03" tall. Police are uncertain as to whether the suspect was male or female.
Police are asking anyone with information about the robbery to contact the Calvert Investigative Team, TFC Schmidt at 410-535-1600 x2597; or Sgt. King at 410-535-1600 x2455; or D/Sgt. Moore at 410-535-1600 X 2454.