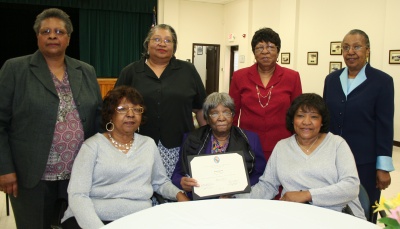 Hazel Gutrick of Nanjemoy, surrounded by her six daughters, celebrates 100 years of life. (Standing from left: Geraldine Ward, Virmia Cobey, Pearl Smith, and Annie Warren; Seated from left: Betty Ross, Hazel Gutrick, and Shirley Lewis) (Photo: George Clarkson, Press Secretary, Charles County Government)
NANJEMOY, Md. (March 12, 2008)—When Hazel Gutrick was born, Teddy Roosevelt was President of the United States, Henry Ford had just rolled out his Model T automobile, and the first long-distance radio message was sent from the Eiffel Tower in Paris to New York City.
That was 100 years ago, and on March 5 Gutrick became a Charles County history-maker when she celebrated her centennial birthday at the Nanjemoy Senior Center. Ms. Gutrick is a regular at the center.
Gutrick was born and raised in Nanjemoy and has lived there her entire life. She enjoys going to church and attending prayer service, and she loves to crochet and create ceramics figurines.
Gutrick attributes her longevity to being surrounded by her family. She was the oldest girl in her family of three girls and three boys. Gutrick herself had eight girls and one boy of her own.
Charles County County Commissioner Vice President Edith J. Patterson was on hand to present Ms. Gutrick with a Charles County commemorative scarf and a special birthday proclamation signed by all of the Commissioners.