Commissioner Patterson Leaps into Reading at Craik Elementary School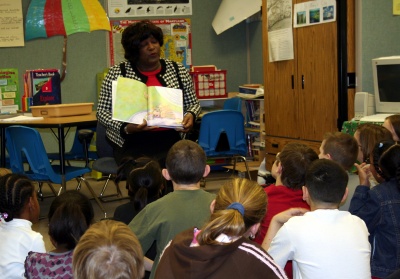 Commissioner Vice President Edith J. Patterson reads to fourth-grade students at Dr. James Craik Elementary School in Pomfret. Commissioner Patterson was one of several guest readers who visited Craik Elementary on Leap Day, February 29, for a reading celebration honoring the birthday of Mr. Theodor "Ted" Seuss Geisel, better known as Dr. Seuss. Commissioner Patterson read aloud to Ms. Mary Ann Johnson's math class from "Goldilocks Returns," a book by Lisa Campbell Ernst.
Patterson also presented a Charles County 350th Anniversary commemorative clock to Dr. James Craik Elementary School Principal Penny Berg Nye. Commissioner Patterson commended Ms. Nye for her commitment to encouraging reading and excellence in Charles County schoolchildren. Commissioner Patterson visited Craik Elementary on February 29 and read to fourth-grade students as part of the school's celebration honoring Dr. Seuss' birthday.
(Photo: Crystal Hill, Media Relations Officer, Charles County Government)
County Commissioners Proclaim March as Red Cross Month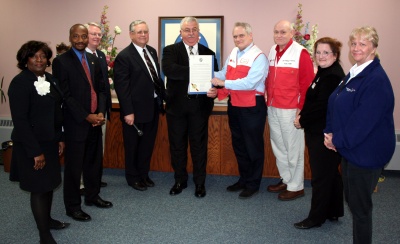 The Charles County Commissioners recently celebrated the dedicated efforts and hard work of the American Red Cross (Southern Maryland) by issuing a proclamation declaring March as "American Red Cross Month" in Charles County.
The Commissioners praised the organization for their diligent efforts over the years serving citizens from all walks of life. "We want to especially recognize the tremendous work done by members and volunteers during the devastating tornado of 2002 that destroyed portions of Charles County," said Commissioner President Wayne Cooper. "Without the American Red Cross, we could not have bounced back so quickly."
Cutline for Attached Photo: Accepting the Proclamation for the American Red Cross were (l. to r.): Gregory Jones, Sr., Director, Disaster Services; Bob Gretton, Volunteer; Jennifer Spedden, Development Director; and Teresa Gretton, Volunteer.
(Photo: George Clarkson, Press Secretary, Charles County Government)
Local High School Students "Shadow" County Commissioners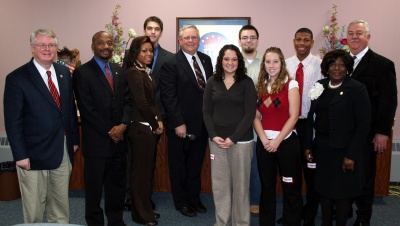 Local high school students with the Charles County Commissioners on "job shadow" day. Pictured (l. to r.): Gary V. Hodge, Reuben B. Collins, II, Candace Key (Thomas Stone High), Steven Sinkler (Lackey High), Wayne Cooper, Rachel Zaccarelli (Westlake High), Scott Worman (North Point High), Lauren Dehanas (McDonough High), Kevin Respress (McDonough High), Edith J. Patterson, and Samuel N. Graves, Jr. (Photo: George Clarkson, Press Secretary, Charles County Government)
Six local teens recently spent part of their day watching the governmental process in Charles County when they "job shadowed" the County Commissioners and the County Administrator. The students were engaging in a special event where they select a person, or profession, and accompany that individual during their work day in hopes of gaining first-hand knowledge about the rigors of their job.
The students attended a scheduled Commissioners meeting where they observed presentations ranging from budget allocations to school construction. The group also met staff members and toured the offices of the County Commissioners.
Virtual Reality Makes It Debut in Charles County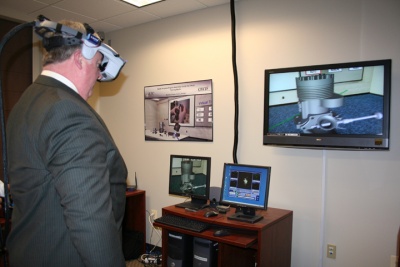 Charles County Commissioner Samuel N. Graves, Jr.,(wearing a virtual reality helmet) tries his steady hand at assembling a project at the Energetics and Technology Center. The new $50,000 VR lab (located in La Plata) was originally developed at the Center for energetic Concepts Development at the University of Maryland to teach technicians at the Naval Surface Warfare Center in Indian Head how to assemble and disassemble certain dangerous devices.
The VR lab's capabilities include motor skills training after surgery, military and flight simulators, assembly and maintenance training, design visualization for automobiles and airplanes, manufacturing process simulation and design review.
"The field of virtual reality is an exciting endeavor, and I'm glad it's happening here in Charles County," said Commissioner President Wayne Cooper.
(Photo: George Clarkson, Press Secretary, Charles County Government)