ANNAPOLIS (March 11, 2008) - The Maryland Department of Natural Resources (DNR) Wildlife and Heritage Service announced recently that Maryland deer hunters killed 92,208 deer during the 2007-2008 season; an increase of less than 1 percent over last year's total harvest of 91,930 deer. Antlered harvest declined 3 percent from 33,114 deer (889 sika deer) in 2006-2007 to 32,221 deer (898 sika deer) this year. Antlerless harvest increased 2 percent from 58,816 deer (890 sika deer) in 2006-2007 to 59,987 deer (956 sika deer) this year.
"Another deer season with a strong antlerless harvest is positive news as we work to balance our deer population with the woods, waters, and residents of the state," said Wildlife and Heritage Service Deer Project Leader Brian Eyler. "A balanced deer population in synch with the environment is critical for healthy Maryland watersheds."
In Deer Management Region A, comprised of Garrett and Allegany counties, the deer harvest dropped slightly from 9,259 in 2006-2007 to 9,004 deer this season. The antlered harvest of 5,208 deer this year was similar to the 2006-2007 harvest of 5,246 deer while the antlerless harvest of 3,796 deer was about 5 percent less than the 2006-2007 harvest of 4,013 deer.
Deer harvest in the remainder of the state was more variable for 2007-2008. Sunday hunting occurred for the first time in Somerset, Wicomico, and Worcester counties this year and hunters responded favorably. Deer harvest increased between 7 and 15 percent in those counties. However, several counties, including Calvert and Prince George's, appear to have been impacted by an early season outbreak of Hemorrhagic Disease, a viral disease that is often fatal to deer but does not affect humans. The deer harvest in those counties was down 11 and 25 percent, respectively.
"Sunday hunting is really catching on with our deer hunters. This year more than 3,000 deer were harvested on the several Sundays that were available for deer hunting," added Eyler. "We will continue to closely monitor counties affected by Hemorrhagic Disease. Other than some possible short-term harvest declines, those areas should not expect any long-term negative impacts."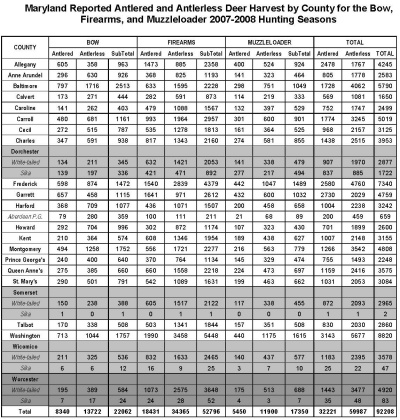 Maryland Reported Antlered and Antlerless Deer Harvest by County for the Bow, Firearms, and Muzzleloader 2007-2008 Hunting Seasons (Click on chart to see larger size).
Source: Maryland Department of Natural Resources (DNR)