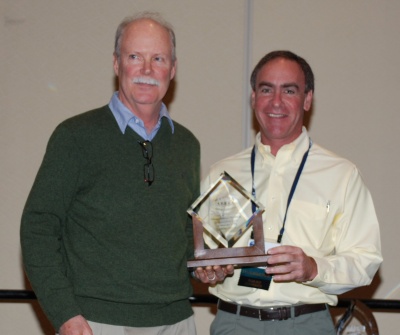 Craig Bumgarner, marina service manager for Zahniser's Yachting Center on Solomons Island, receives the 2007 award for Excellence in Customer Service from the ABBRA.
SOLOMONS, Md. (March 10, 2008)—Zahniser's Yachting Center, located on Solomons Island, was recently presented with the 2007 award for Excellence in Customer Service by the American Boat Builders and Repairers Association (ABBRA). Craig Bumgarner, the service manager for the marina, received the award at the annual meeting of the ABBRA in Atlanta, Georgia.
Established in 1960, Zahniser's Yachting Center is a family-owned and operated marina and repair facility.
Zahniser's is also recognized as a "Clean Marina" by the State of Maryland. "Clean Marinas" meet state-defined standards of operation and voluntarily adopt pollution prevention practices in order to protect and preserve local waterways.
ABBRA's annual awards recognize individuals and companies from the boatyard and repair industry for their performance in various categories.
ABBRA represents over 250 boatyards, repairers, and associated industries in the United States and abroad.