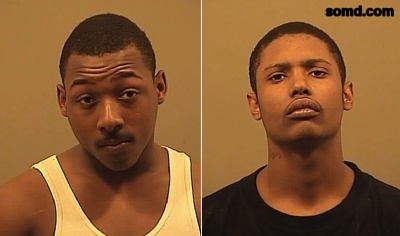 These two teenagers, Jamal Lionel Rosier (left) and Ravaun Anthony Walls, were arrested on Wednesday and charged as adults after an alleged cocaine buy turned into an armed robbery and attempted murder.
LA PLATA, Md. (March 6, 2008)—An illegal drug buy yesterday between a 49-year-old man and two male teenagers turned into an armed robbery and a shooting spree. No one was injured. The two teenagers were arrested and charged as adults for several serious crimes.
At 11:40 a.m., Charles County Sheriff's officers were called to the 7200 block of Annapolis Woods Road in La Plata to investigate a hit-and-run motor vehicle crash. As their investigation evolved, police realized that there was much more to the story.
Police say the victim, a 49-year-old Bel Alton man, met Ravaun Anthony Walls, 17, and Jamal Lionel Rosier, 16, both of Indian Head, to buy cocaine. During the transaction, Walls and Rosier reportedly brandished handguns and robbed the victim of an undisclosed amount of money. Walls and Rosier entered a Chevrolet Blazer and as they fled, they fired shots which struck the truck the victim was driving. As the victim drove away, his vehicle struck the Blazer driven by the suspects.
The victim told officers that he drove to the parking lot at the intersection of Port Tobacco Road and Academy Place to notify police. Officers found him there and after a search of the area found Walls and Rosier in the 5900 block of Journey Place.
Police say that during the search of the suspects and their vehicle, Cpl. M. Davidson and his K9 partner found marijuana and a loaded handgun. Individually packaged quantities of crack cocaine were also recovered.
Walls and Rosier were arrested and charged as adults with attempted first-degree murder, armed robbery, robbery, possession of a handgun in the commission of a felony, having a handgun in a vehicle, possession of marijuana, first- and second-degree assault and theft. They were being held at the Charles County Detention Center pending appearances before the district court commissioner.
A spokesperson for the Sheriff's Office said they would not know whether or not the victim will be charged, in relation to his alleged attempt to purchase cocaine, until the investigation has been completed.
Officer S. Miller of the Charles County Sheriff's Office investigated.