Leah's House has Good Turn Out at Pancake Breakfast to Help Combat Homelessness in St. Mary's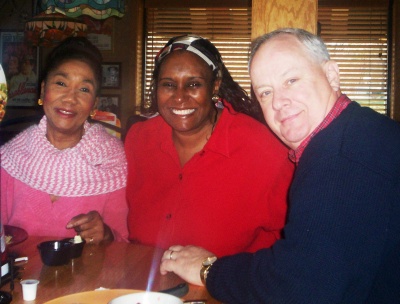 Leah's House hosted a Pancake Breakfast fundraiser last Saturday for their planned homeless shelter. Pictured left to right: Gertrude Scriber, Marguerite Morris (Leah's House founder), and County Commissioner Dan Raley. (Photo courtesy Leah's House)
CALLAWAY, Md. (March 5, 2008)—Leah's house continues to move forward with their new shelter to house the homeless in St Mary's County. The organization hosted a pancake breakfast fundraiser last Saturday at the Applebee's restaurant in California. According to Pastor Marguerite Morris, founder of Leah's House, the fundraiser was "one of its most successful."
Among those in attendance were County Commissioner Dan Raley, Reverend Dr. Ruddy Brooks, Pastor James L. Bell, Benjamin and Lillian Bryan, and several members of the NAACP.
Several groups like It's A Better Life, Inc. and To Tell the Truth Outreach & Deliverance Ministries purchased blocks of tickets in advance as a show of support for the project, according to Morris.
The volunteer waiters were members of the St. Mary's College of Maryland's (SMCM) rugby team. The waitress volunteers were members of the youth group Positive Reinforcement of our Future (PROOF). PROOF was founded by Morris' church.
On March 8, State Senator Roy P. Dyson (D-29) is scheduled to introduce Senate Bond Bill 160. If approved, the bond would provide funding for Leah's House in the amount of $250,000. Morris noted that Leah's House staff and supporters will be traveling to Annapolis this weekend to offer testimony supporting the bill.
Morris says she is encouraging the public to contact Senator Dyson to show their support for the bill.
Morris also announced that Leah's House has been selected to be the 2008 Community Project for Christmas in April. Christmas in April is a non-profit organization that sends teams of trade and lay volunteers into the community every April in order to perform repairs to the homes of low income citizens.
Tax deductible donations can be mailed to to P.O. Box 203, Callaway, MD 20620. You can also contribute online using your credit or debit card by visiting their new and updated website at http://www.leahshousemd.org/ .