By Guy Leonard, County Times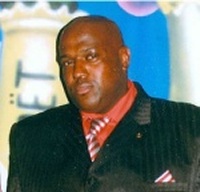 Mark Darnell Courtney, 34, of Charlotte Hall, died last Saturday when, as a spectator of an illegal street race on Rt. 210 in Accokeek, he and at least 14 other people were hit by a vehicle travelling down the highway. Eight people died.
HOLLYWOOD, Md. (Feb. 21, 2008)—The family of a Mechanicsville man who was killed over the weekend when a car plowed into a crowd of spectators watching an illegal street race in Prince George's County are in deep mourning over their loss but are angered by how suddenly their loved one was taken from them.
"He was a good hearted person," said Wayne Courtney of his brother Mark Courtney who was killed in what Prince George's County police are calling an accident. "It was a shame how it happened."
Wayne Courtney said his brother was an avid racer himself and had two cars he would race on local, legal racetracks.
His brother did not drive in illegal street races, Wayne Courtney said.
"He was into drag racing and that's what took him out of here," Wayne Courtney said of his brother. "All we want is closure; something's got to be done."
The incident that took Mark Courtney's life, and the lives of seven others, occurred about 3 a.m. Feb. 16 on Indian Head Highway in Accokeek when spectators to the illegal street race were standing in the roadway near Pine Drive when they were struck by a north bound vehicle.
According to information from the Prince George's County Police Department at least 14 spectators were struck in the accident with seven dying at the scene.
One who was severely injured was taken to a nearby hospital but later died.
Cpl. Arvel Lewis, spokesman for the Prince George's police, said the driver of the vehicle has not been charged in the accident.
"The one who ran into the pedestrians stayed on the scene and talked to the officers," Lewis told The County Times. "There are no charges at this time."
Wayne Courtney said his brother had been to many drag races as a spectator and knew how to spot danger; he said he believed, according to information he heard about the accident, the driver of the vehicle was speeding and that his headlights were turned off.
"To kill so many people, that's terrible," Wayne Courtney said. "Somebody's got to be held accountable."
Ramon Korionoff, spokesman for Prince George's County State's Attorney Glenn Ivey, said the investigation is continuing as to what exactly happened that morning.
"This is a complex and complicated case," Korionoff said. "We're still piecing together the puzzle that is this investigation. Nothing has been ruled in or out by Mr. Ivey.
"It's a tragedy all around."
Police in Prince George's are still looking for witnesses to give them more details about the accident, according to agency press releases.
All eight people killed in the accident have been positively identified.
Mark Courtney, 34, was set to have his birthday in March, his brother said.
He leaves behind three children, a 17-year-old son and two young daughters, Wayne Courtney said.
He remembered his brother would always come by on Sunday for dinner at their sister's home.
"We'll miss that," Wayne Courtney said of his brother.
Mark Courtney was active in the life of his children, including spending time with his son who plays basketball at Chopticon High School, and was engaged to be married, his brother said.
He also leaves behind his father, mother, five brothers and one sister.
Mark Courtney's funeral arrangements, scheduled for Friday, will be handled by Brinsfield Echols Funeral Home.
Anyone with information regarding the accident is asked to call the Prince George's police Collision Analysis Unit at 301-731-4422 or Crime Solvers at 1-866-411-8477 if he or she wishes to remain anonymous.
RELATED INFORMATION:
Obituary for Mark Darnell Courtney
http://somd.com/announcements/obits/report.php?rec=928