By Guy Leonard, County Times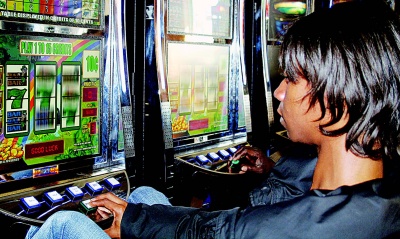 Nia Lee of Waldorf tries her hand at one of the electronic gaming machines at Fred's Liquors in Charlotte Hall. Both Sheriff Tim Cameron and State's Attorney Richard Fritz have said the machines are legal, though they are concerned about how the division of the proceeds is monitored. (Photo: Guy Leonard, County Times)
HOLLYWOOD, Md. (Feb. 14, 2008) — In recent months electronic gaming machines have begun to proliferate throughout St. Mary's County that resemble slot machines and despite cries of foul from some in the community both State's Attorney Richard Fritz and Sheriff Timothy K. Cameron say that they can take no action against anyone for the use of the legal methods of raising funds for charitable organizations.
"You can't shut something down that's not illegal," Cameron told The County Times.
Fritz said that the only way they could take action against the gaming machines would be for legislators like Sen. Roy Dyson (D-Dist. 29) to act first in Annapolis to either outlaw the machines or regulate their usage.
"It's up to them to do that," Fritz said. "The Maryland Court of Appeals has spoken very loudly about whether these machines are legal or illegal… they are legal, they are not slots.
"The bells and whistles don't make it a slot machine."
Under the current law, revised in 2001, the gaming devices now in the county can be used by "qualified organizations," such as charitable groups or community service organizations that operate off of donations, to raise funds.
The business establishments who lease out space to gaming machine vendors are not permitted to make any money from the proceeds taking in by the machines.
Fritz said, however, that the transactions of these machines needed to be monitored to insure that the organizations for whom the machines were raising funds received their fair share.
If the transaction were not monitored in what Fritz said was "a paper chase" the door could be open to criminal enterprises.
"It's something [the division of the proceeds] that needs to be looked into," Fritz said. "But we need the legislative authority to do it in an appropriate manor."
Fritz also said that his investigative resources were already at their full capacity dealing with county crime.
"We've come to the conclusion that it's a massive manpower effort that neither of us have the resources to accomplish," Fritz said of his office and that of the sheriff.
Every form of legal gambling in Nevada, Fritz said, is legal in St. Mary's County save for slot machines.
The gaming devices here in the county have a video screen with images resembling the tumblers of a slot machine, but instead of dispensing money they dispense paper slips denoting how much a player wins.
Bob Sorrells, owner of Fred's Liquors in Charlotte Hall, said that the machines each had more than one winner predetermined in the slips they put out. Players could even see if they had won before the results were available on screen.
"They're just like scratch off lottery tickets," Sorrells said. "You've got a fairer shot with these than with slots. Sorrells encouraged the creation of some kind of authority to monitor the money transactions from the machines to avoid any criminal enterprises.
"I'd like to see someone come in once a month and check the books," Sorrellls said. "Let's come up with some hard and fast rules for everyone to abide by.
"I'd like to see the county charge an amusement tax."
Dana Spicuzza, owner of Petruzzi's Italian Bistro in California, said that when some customers come in and see the machines they are initially disturbed but some think otherwise when their operation, and their purpose is explained.
"They think they're slot machines," Spicuzza said. "But when you explain to them that all the money stays in the county and it helps out our area they don't mind so much."
Petruzzi's leases out space for the machines but does not get any of the money from the proceeds the machines generate, she said.
The machines are there to help local charities and also to boost their restaurant business, Spicuzza said.
"This is just to get people in the door," she said. "We benefit by the food and beverage sales."
The charities the machines at Petruzzi's raise money for are The Greenwell Foundation, The Center for Family Advocacy, the Hollywood Lion's Club and the Hollywood Volunteer Rescue Squad, she said.
There are currently 19 machines in her restaurant, Spicuzza said and they've only been there about three weeks and keeps money people might spend at gaming destinations in Delaware and West Virginia here.
"It's bringing in people who haven't been here before," she said. "They might as well spend their money here."